A former window frame showroom in Auckland gains a new lease of life as a loft-style home.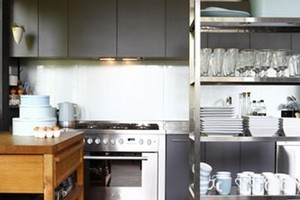 Buying an industrial space to live in was a dream come true for Penny Harwood - but turning it into a home required some imagination.
Located on the top floor of a two-storey 1920s building in Mt Eden, Harwood's unit was originally a showroom for a steel window frame manufacturer.
The business shut down in the 1970s and the building had various occupants afterwards until, in 2000, a developer restored the factory by exposing the concrete walls, strengthening the steel framework and wooden trusses and restoring the magnificent steel windows. The refurbished building was exactly what she was looking for.
"I had always dreamed of living in a loft-style space, so I was intrigued when I saw the advertisement in a magazine," Harwood says. "It was the sense of history that drew me to it."
But the long, rectangular space - open-plan apart from the bathroom - felt empty, cold and lifeless. "Nobody had a clear idea of what to do as the purely rectangular space was difficult to work with," she says.
Harwood decided to use furniture and curtains to define different areas. In the kitchen she has open shelving on wheels that can be moved around to different configurations. She created three "rooms" by carefully placing large armoires and screens, while floor-to-ceiling curtains are used to close off her bedroom from the rest of the space.
The entrance is positioned at one end of the unit, as is her bedroom. From here you move into the living area and then the dining and kitchen areas.
Harwood also wanted to give a softer feel to the raw space. "The linen gauze curtain fabric was my biggest indulgence," she says. "It means I have the option of having privacy in my bedroom during the day and using the heavy black curtains to keep warm at night."
Ivory couches that Harwood bought online define the living area. Here, a grey vintage chair re-covered in linen sits beside an antique table. One of her prized possessions is a pair of wooden angel wings, hanging against the window. "I bought the huge wings when I was living in a little cottage and had to put them in storage due to lack of room," she says. "When I moved in here there was finally space for them."
A black armoire signals the divide between the living space and the dining area and kitchen. A white romantic-style dining table is surrounded by secondhand chairs that she re-covered and painted.
Three walls of large steel-framed windows fill the room with light. "I fell in love with the windows in this place. There are more than 30m of them in total," she says.
Style tips
Seasonal change: Create different summer and winter looks by rotating cushions and accessories. Just moving things around will keep your home feeling fresh.
Clash conscious: Don't be afraid to mix styles as this will add to your home's personality. Arrange antique with modern or expensive items with bargain buys.
Net gain: Use the internet to find secondhand or discounted furniture and furnishings. "My sofas were a bargain buy at $500 online," says Harwood.
* Leanne Moore is the editor of Your Home & Garden. For the full story see the latest issue of the magazine.