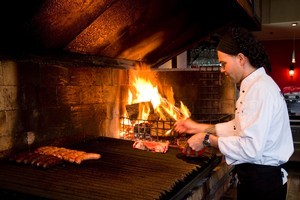 I've never been to Buenos Aires, but I know where it is. I've never been to Clarks Beach either. I'm sure it's a lovely place, but the southern shore of the Manukau Harbour does seem rather an unusual choice of location for an Argentinian eating establishment.
Perhaps that's why, after three years, Victor, Maria and the team moved their restaurant to Herne Bay, taking over the premises previously occupied by Marrakech.
On a night in one of the coldest weeks in Auckland's recent history, we made our way to Buenos Aires to try out the famous open wood-fired grill.
Positioned right beside the door, the grill, or parrilla in Spanish, was keeping two chefs very busy. They use manuka that has been dried for three years to maximise the fire temperature. It roars away on one side of the space, and then the embers are scraped out and pushed under the grill to cook the meat. They can manage three levels of heat, so the arrangement of the embers is done carefully.
The menu at Buenos Aires is not long, but it does seem to cover almost any type of food that can be grilled - steak, of course, but also chicken, sausages of various description, fish wrapped in foil, and pork and lamb cutlets.
We were pacing ourselves, so a light starter was required. We ordered the matrimonio to share, a rather stark arrangement of one chorizo and one black pudding on the plate, together with a little dish of chimichurri sauce. The chorizo was mild, but the black pudding, which was made on the premises, I was assured, was excellent - not too spicy and not dry as some can be. I had expected the sauce to be very hot, but I was wrong. The combination of garlic, chilli, olive oil and herbs was a perfect foil for the sausages.
Bill went for steak for his main, a bife de chorizo, which somehow translated as scotch fillet wrapped in bacon. It was only 400g, a relatively modest size when you consider that you can have an 800g T-bone. It came rare, as ordered, and was moist and tender.
I prefer chicken to be cooked skin-on, as I believe it keeps the flesh moist. My pollo asado supported my theory, almost falling off the fork with tenderness. The marinade of lemon juice, garlic and herbs helped.
A fellow reviewer remarked last year that Buenos Aires could do with more warm dishes on its extensive menu of sides - green beans, perhaps, or broccoli. They are both there now, and very good they are too.
Having been almost abstemious in our first two courses, we had room for dessert. Churros, of course - those long cigar-shaped doughnuts just begging to be dipped into Cointreau-flavoured chocolate sauce. Delicioso, even for a non-chocoholic like me.
It's a fair step to South America from here, but one we hope to take in the not-too-distant future. In the meantime, we'll go back to Buenos Aires to keep our dream alive and our tastebuds in training. Saludos!
Rating out of 10
Food: 8
Service: 8
Value: 8
Ambience: 7
Our meal: $172.50 for one starter, two mains, one dessert, wine and beer.
Wine list: Not extensive, but covers a good range of South American wines as well as locals. South American beers also available.
Verdict: Buenos Aires provides food with flair - especially for those of a carnivorous bent, although vegetarians are not overlooked.