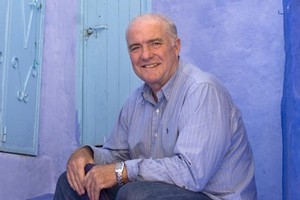 Fans of Rick Stein will be able to get up close and personal with the international man of fabulous food at the Taste of New Zealand Festival next month. Stein will join the event as an ambassador of the Malaysian Kitchen Programme and will share some of his favourite recipes and travel tips from when he was in Malaysia filming his television series, Far Eastern Odyssey. For more info visit Malaysian Kitchen.
Taste of New Zealand runs from October 19 to October 22 at Victoria Park in Auckland. Tickets start at $25 and earlybird premium tickets are available now.
Meet Pete
Meanwhile, London-based top Kiwi chef Peter Gordon will be cooking in store at Farro Fresh, Lunn Ave, this Saturday. With restaurants in Britain, Turkey and here in Auckland, Gordon is renowned for his approach to fusion cooking.
Saturday, 10am, Farro Fresh, 80 Lunn Ave, Mt Wellington.
Book now ...
Melt-in-your-mouth lamb chops, mini-burgers packed with fresh lobster, juicy oysters, and mouth-watering duck tartlets ... if the canapes being passed around at the opening of leading Sydney-based chef Sean Connelly's The Grill restaurant last week were anything to go by, we can't wait to get back and try the full menu. We also fell head-over-heels with the elegant design of this establishment, created by architect Andrew Lister and the open kitchen so you can watch Connelly's team in action. Situated at the SkyCity Grand Hotel, Federal St, City, ph (09) 363 7067.
Keep it in the Family
While you're in the Federal St area, we suggest you check out the new Family of Twelve wine bar in the SkyCity Atrium. Established especially for the duration of the Rugby World Cup, the Family of Twelve is a collection of 12 family-owned New Zealand wineries working together as New Zealand's Wine Family. The bar will stock three wines from each vineyard: Kumeu River, Craggy Range, Fromm Winery, Neudorf Vineyards, Villa Maria, Ata Rangi, Lawson's Dry Hills, Pegasus Bay, The Millton Vineyard, Palliser Estate, Nautilus Estate and Felton Road. Open Wednesday-Sunday from 4pm.
Be quick
A sunny afternoon, a crisp, cold bottle of pinot gris and a pound of prawns for $20 on the balcony at Euro. Throw in a side of fries and a salad and this is the perfect lunch to share with a friend. Hurry, the pound of prawns deal finishes soon. Euro, Princes Wharf, the Viaduct. To book, phone (09) 309 9866.
Melbourne eats keep getting better
Every year in Melbourne the dining scene eagerly awaits the announcement of the acclaimed Good Food Guide winners. The latest and greatest restaurants of Melbourne's ever-expanding food scene are acknowledged in a celebratory evening like no other, followed by a rush for the morning paper the next day to see who has won the much lauded "hats" - a total of three is possible for any restaurant considered to be outstanding - and, in some cases, who has had theirs retracted if the judges consider it no longer deserving.
In a year in which 649 establishments were reviewed, many of them were newly opened and of the newies, seven went straight to hatted status.
This year there was a definite theme of eateries offering solely tasting menus, those following a sustainable, paddock-to-plate approach and the "shared plates" style of dining, often favouring a modern take on Asian cuisine, is all the rage.
Nici Wickes was in Melbourne to get the information hot off the press and here are they are:
Restaurant of the Year: Attica in Ripponlea, chef Ben Shewry. (Look out for next week's Viva where Nici recounts her meeting and eating with the lovely Shewry himself.)
Chef of the Year: Dan Hunter, Royal Mail Hotel.
Young Chef of the Year: Josh Murphy, Cumulus Inc (we recommend going early in the day - it's Nici's favourite haunt for breakfast).
Regional Restaurant of the Year: Loam.
Best New Regional Restaurant: Mr Carsisi.
Best New Restaurant: Golden Fields by the talented Andrew McConnell, also of Cumulus Inc and Cutler & Co.
Dish of the Year: Barbecue spare ribs, Dandelion.