Find more restaurant reviews with our Google map
Address: 12B O'Connell Street
Phone: (09) 377 8384
Web: jalapenos.co.nz
Cuisine: Mexican
Rating: 5.5/10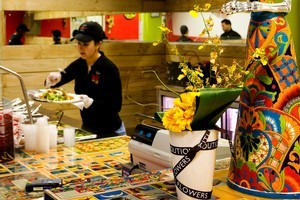 It was hard to imagine the temperate climes of Mexico as we buttoned up our coats and dashed down to Jalapeno's Mexican Grill on a freezing Auckland Friday night. The new eatery at the back of the small arcade in the CBD's O'Connell St was deserted. Maybe everyone had made a dash for home and the heater or perhaps we were just out too early, but there were tumbleweeds in the place.
However, we'd heard good things about the food so decided to persevere and took a seat in the corner next to a glass cabinet containing glittering Mexican wrestling masks - a la Nacho Libre - and a row of small cacti.
The friendly waitress came over with a couple of menus on paper leaflets - almost like a takeaway menu - and explained a bit about the place. Jalapeno's is Mexican-owned and operated, they use imported ingredients and make their own tortillas, nacho chips and authentic sauces on site.
The owners have made an effort with the décor, which is cute, though a little sparse, with Day of the Dead paraphernalia and other kitsch items dotted throughout.
The counter is decorated with colourful layer of children's Mexican playing cards, which is a very nice touch. A television shows a DVD of a live concert, providing the eatery's only ambience tonight. When I walked past again, earlier this week, it was closed for renovations so things may have changed in just the few short days since this review.
New Zealanders probably know enough about Mexican tucker to recognise most of the dishes on Jalapeno's menu - tacos, quesadillas, nachos ... I opt for a chipotle beef burrito ($13.50) which comes wrapped in a flour tortilla with pinto beans, Mexican-style rice lettuce, sour cream and pico de gallo (chopped tomato, onion and chillies). Chipotle is smoke-dried jalapeno, so the dish is already likely to be hot, but - with some trepidation - I ask for it to be served spicy. I feel like getting warmed up tonight.
My dinner date goes for the recommended enchiladas ($15) - three lightly fried corn tortillas filled with chicken and topped with tomato sauce, cream, onion, cheese, and two sides of rice and refried beans. The spicy sauces come on the side, we're told, so you can modify the heat to your own satisfaction.
The burrito turns out to be rather large and arrives swathed in tinfoil, like a kebab, so I ask for a plate and cutlery so I can eat more daintily. There is masses of food hidden inside it, which is really rather good. The spicyness is intense but bearable, and I scoff the lot. The tortilla is fresh, as are the other ingredients, and the shredded beef is tasty, though a little stringy.
The enchilada dish is enormous and my date can't finish it, leaving behind one of the tortillas and the very unappealing pile of refried beans. It is quite hard to make this food look pretty on the plate, and refried beans must be any chef's worst nightmare. To improve the sight there are a couple of very nice corn chips added as a sort of garnish.
The chicken, unfortunately, is lukewarm and there is no guacamole nor sauces on the side as promised, but as a cheap and cheerful dinner, it passes the test.
So yes, Auckland City can celebrate the fact it has a reasonably priced, authentic Mexican eatery in the CBD - but although it stays open until 9pm on Thursdays and Fridays, don't visit Jalapeno's expecting a lively dining experience: it's really more of a fast-food-style eatery. This makes it an ideal lunch-time destination, or a good place for a quick dinner if you've been at the office late or are on your way out to the movies or a show. In fact, it would almost be more at home as part of a food court.
There is no liquor licence yet, which means they only sell soft drinks or serve tap water, but there are reportedly plans to get one - which may help improve its appeal at night. Until then, you'll have to imbibe your tequila elsewhere. Arriba!
From the menu: Chipotle beef burrito, $13.50; chicken enchilada $15.
Drinks: Soft drinks and water only.