It's easy to lay a path that will keep your feet out of the mud, says Greig Morgan.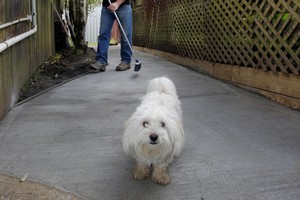 It's nice to have as much grass as possible for children to play on, but when there's a lot of foot traffic over wet or shady areas, the grass just can't cope, and you end up with a muddy unuseable area. A garden path is a practical solution to ease access to a variety of areas - the garden shed, clothesline or barbecue area.
Paths can also be a feature of your backyard. Design yours wide enough so it's in proportion with the size of the area. Pathways look great with gentle curves, or beside a garden to soften your landscape. There is a range of materials to choose from: bricks, pavers, loose gravel, depending on your needs. I laid my garden path in concrete; it is easy to do and shape and is durable. It also tied in nicely with another concrete area.
Step 1
Set up a string line to the height you want your path to be, making sure you have enough fall so water can run off and you're not left with puddles (I allow at least 10-12mm to every metre). Also allow for a drainage sump to collect rainwater if needed and direct it to your nearest stormwater outlet.
Step 2
Excavate the soil for the path to about 150mm deep, or to solid ground. This preparation must be done right.
Step 3
Prepare path area with GAP 20. Rake it even, then measure 75mm down from your string lines and screed with a straight edge. Make sure the finished base course matches the same contour as the finished concrete. Now compact it with a plate compactor.
Step 4
Set up 75x20mm boxing to the height of the string lines, held in place with stakes on the outside. If the path has curves, cut a series of saw cuts in the boxing where needed to help the timber bend.
Step 5
Starting at the most convenient area and working your way out so you're not walking on your work, pour in the mixed concrete. Level it using a straight edge, smooth it off using a trowel and tidy the edges by using an edging trowel. Allow the excess water to rise and disperse then smooth off again with a trowel.
Step 6
For extra grip, wait until the concrete has set firmly enough, then, letting the weight of a yard broom do the work, pull the broom toward you neatly and straight to create lightly etched lines across the path.
Step 7
Wait a couple of days then measure and mark evenly spaced cutting lines against a straight-edged piece of timber. Cut the concrete using a hand grinder - these are expansion joints which help prevent the concrete cracking (don't make cuts more than 3m apart). Carefully remove the boxing, and you have yourself a new concrete garden path.
Materials
Base course (Gap 20)
Concrete (BM20)
Cement (follow instructions on bag for correct mix)
Bag of 40mm nails
Boxing 75x20mm
Stakes (75x20mm off-cuts from boxing)
Tools
Concrete mixer
Spade, shovel, rake
Wheelbarrow
Plate compactor
Level, string line, tape measure
Hammer, saw
Straight edge (to screed base & concrete)
Trowel, edging trowel
Yard broom
Hand grinder with concrete cutting blade
Safety glasses, earmuffs