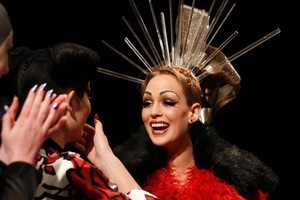 Brigette Thomas was last night crowned New Zealand's Next Top Model.
The 21-year-old barista from Motueka looked stunned as her name was announced shortly after 8.30pm, following a live "walk-off" at fashion label World's high-energy, high-impact Fashion Week show.
The willowy blonde, who has described her most embarrassing moment as "being on this show", was an early favourite to take the title.
She was joined on the World runway by runners-up Rosanagh Wypych, 17, and Bianca Cutts, 16.
World designer Francis Hooper and his team put the girls through the hoops in the days leading up to the show - but said they received no special treatment. "I told them ... You have to be more than a model, you have to be an actor. You have just 40 seconds each on the runway to win this competition - I think that freaked them out."
Thomas thanked her competitors and joked that she may now move to the North Island.
She was the only South Islander in the final three.
The host of the TV3 show, Sara Tetro, said she was incredibly proud of all three finalists.
The win came after a controversial week where Wypych found herself at the centre of a media storm over revelations that she had driving convictions, then photographs emerged of her apparently with cannabis.
Last night's show, titled Good Versus Evil, was classic World showmanship, with some models sitting in hair and makeup for 6 and a half hours.
"All three girls have been put through a gruelling journey with the show, but don't believe the artificial nature of television," said Hooper.
"You may have won the show but that isn't a guarantee that you will make it as a model. They all have the potential to, but you have to have the drive to move beyond the show and the baggage of the show."
Thomas' prize includes a contract with Tetro's agency 62 Models, a Ford Fiesta car, a one-year contract with CoverGirl, an eight-page editorial in Cleo and an all-expenses paid trip to Paris.