Vietnamese street food is a revelation in flavour, none more so than the delicious Asian take on the baguette.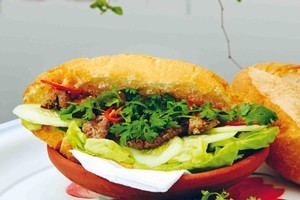 There are some countries you travel to where the only food to explore is on the streets: fresh, hot, tasty and, best of all, super-cheap. Vietnam is one of those places where every street corner has a vendor cooking and crowds gathered. Eating alone is frowned upon, the pavements are where people live.
Melbourne restaurateur Tracey Lister, and her husband Andreas Pohl, landed in Hanoi on sabbatical, but ended up working for the charity KOTO, helping train street kids into hospitality trades. Which gave them more opportunity to explore the mazes and alleyways where the best stalls may be found. The Vietnamese have adapted the wonderful French baguette into the bahn mi (an airy mix of rice and wheat flour with a super-crispy crust). The fillings have changed over the years, with a variation of the Turkish doner kebab - albeit with a Vietnamese twist - being the most recent import, by way of Turkey via Germany.
Lister's variations include a mouthwatering steamed chicken with Vietnamese mint and lemongrass; pate and cold meat cuts zinged up with sliced chilli; fish patties with tofu; or a wonderful coriander and chilli-spiced omelette baguette for breakfast.
Lemongrass beef skewers in baguettes (Banh mi kep bo xien sa)
Serves 6
Vendors of this popular late afternoon snack vigorously fan their braziers, not only to keep the charcoals burning but to disperse the tantalising aroma of the marinated meat among the hungry after-work crowds.
300g rump steak
2 red Asian shallots, roughly chopped
3 garlic cloves, roughly chopped
3 lemongrass stems, white part only, roughly chopped
1 long red chilli, seeded and roughly chopped
1 Tbs toasted sesame seeds
2 tsp fish sauce
6 small baguettes
1 iceberg or other crisp green lettuce, leaves separated
2 cucumbers, peeled and sliced
1 handful coriander sprigs
1 long red chilli, extra, sliced
1. Thinly slice the steak and place in a bowl. Place the shallots, garlic, lemongrass and chilli in a large mortar and use the pestle to grind the mixture into a fine paste.
2. Add the sesame seeds and crush with the pestle.
3. Spoon the paste and the fish sauce over the meat, cover and refrigerate for 1 hour. Soak 12 bamboo skewers in water for 1 hour to prevent them from burning during cooking.
4. Thread the meat onto the skewers and cook on a hot chargrill or barbecue grill for 2-3 minutes on each side.
5. Meanwhile, split the baguettes in half lengthways. Place the lettuce, cucumber, coriander sprigs and extra chilli inside the baguettes.
6. Place two of the cooked skewers inside each baguette.
7. Hold onto the baguette and gently pull out the skewers.
* Extracted from Vietnamese Street Food by Tracey Lister and Andreas Pohl, photographs by Michael Fountaoulakis, $39.99. Published by Hardie Grant books.
Be in to win
Weekend Life has one copy of Vietnamese Street Food by Tracey Lister and Andreas Pohl, published by Hardie Grant books, to give away.
To enter, go to nzherald.co.nz/weekend, fill in your details and enter Vietnamese Street Food in the keywords, by midnight Wednesday September 7.