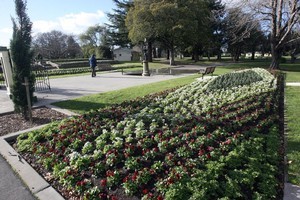 It's time community spirit reared its head again, says Justin Newcombe. What better way than saying it with flowers?
When I was a boy, rugby games were places where New Zealanders did something lavish. We broke out the marching girls, the brass band and the police dogs. Oh how we all cheered as they - the dogs, not the cheerleaders - pack-hunted some poor volunteer who had a sack tied to his arm.
This all made for a pretty good warm-up while we ate our sandwiches filled with the two Cs (cheese 'n' chewna). You knew you were in for a bit of a treat. Municipal planting sends the same signals as a good-natured dog attack at the rugby. We've traditionally used this kind of planting to show the world that we're not a bunch of yokel farmers who'll wear anything that once breathed.
Rather, we are intelligent, urbane and sophisticated - in a word, we are "fancy" and nothing says "we're fancy" more than a big planting of bright orange marigolds spelling out "Welcome to our town". Particularly if it is surrounded by purple lobelia, edged with a buxus hedge or a white chain fence.
Whack a flagpole in the middle and you've got more than fancy, you've got dignity, civic dignity.
Of course municipal planting has moved with the times in many ways. While the basic principles are the same, namely mass plantings accentuating a strong linear design, the plant palette has definitely broadened. Much of this can be attributed to the desire for lower maintenance and much of it to the fashion shifts we have seen in gardens.
There has been a movement away from colour and towards structure. So instead of seeing hundreds, if not thousands, of wildly coloured celosia in a bed in front of a building or in the middle of some lawn you'll find a series of tiered hedges or libertia (the ochre-coloured, stout, flax-like native with a small iris flower beloved of council gardeners) surrounding a grouping of specimen native Chatham Island nikau palms.
Add accents of astelia navosa, the elegant native silver spear with the slim native foliage and the curling native tips providing a native twilight highlight ... phew. I'm over it.
Call me old-fashioned but that's beginning to sound more like a fashion runway commentary than the local council trying to give the town a spruce-up.
Of course it's not all one-way traffic, there is some middle ground. Many municipal gardens have been well served by the intelligent use of perennial flowering plants such as day lilies, kniphofia, canna lily, and even some of the smaller yuccas such as gloriosa and filamentosa. Bulbs are a sensation and even chillies in fruit and en masse provide an inventive and exciting array of colour and interest.
A municipal bed provides an opportunity for the viewer to experience something they will get nowhere else and that is the full force of colour found only in the natural world.
Instead of throwing out our traditions (no matter how quaint or even twee they may seem sometimes), shouldn't we try a little bit harder to celebrate them instead? Like marching girls, brass bands and police dogs at the rugby, municipal planting can cut it as part of our cultural fabric.
We just need to appreciate what we see in the mirror a bit more.