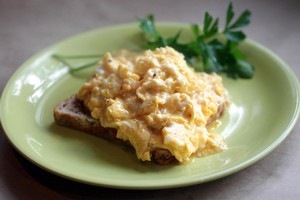 1. Break 1½ to 2 eggs per person into a bowl.
2. Do NOT add water, cream or milk.
3. Season well with salt and pepper.
4. With a fork break up the eggs but do not beat, you should still see whites and yolks streaming through each other.
5. Melt a tablespoon of butter per person gently in a saucepan.
6. Pour in the egg mix and with a wooden spoon move the butter through the eggs, allow them to set in parts before gently mixing the contents together over the low heat.
7. Before the eggs are completely cooked remove from the heat and fold through lots of chopped chives or parsley. The eggs will continue to cook from their own and the pan's heat. Serve immediately.