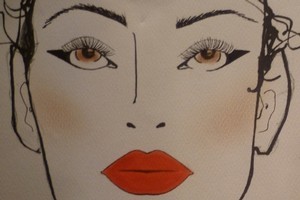 Well it's good to be back. Even better to be backstage with the gals and guys from Stephen Marr and M.A.C at 2011's NZFW. And best to be in the swish new Auckland Events Centre on the edge of the city's grown-up new precinct of the Wynyard Quarter: it rains, who cares? Windy? Not a problem.
Mor soaps in the real bathrooms (and seemingly hundreds of them), gorgeous decks from which to admire the city. Hey, even a bikerack for me to park my cute bright red Ubo bike. So if this is what pre-adolescent hormones bring to an 11-year-old Fashion Week, I say bring it on!
But where was I? Backstage with Kristen Stewart of M.A.C and Lauren Gunn of Stephen Marr to check out the styling for Adrian Hailwood's afternoon show.
Did I mention the green rooms are quiet, comfortable and very, very organised this year? No more scuttling cross country to find the right show or ducking through tents between rain.
Hailwood's brief was grown-up glamour and simplicity, with a feeling of matadors and old Spain. The clothes are pared back to a palette of black and white - and, already the season's favourite, navy - so Stewart's plan was to keep the faces simple. Which means, as always, subtle, not bland.
The highlight was a lacquer-red glossy lip for the senorita-with-passion (aptly called Lady Danger).
There was a time, not too many Fashion Weeks ago, where that would have been paired with a pale, pale face and heavy, smoky eye.
Thankfully, those days are over: Stewart's given the girls a naturally pale face (Face & Body), with enough contour under the cheeks to keep it real.
And the eyes are bare save a super cat-eye sweep at the corner (the pros use M.A.C Pro acrylic, but you can use the new Super Slick liner in "On the Hunt" black).
The look is of the cool gals around the pool of seventies California - not hippies, more the Palm Springs women who hung around Topanga Canyon with Coppolla, all cool architecture and striking poses.
So Lauren Gunn for Stephen Marr has - with immense engineering skill - created the look of bed hair. Impressive wave clips that look like giant Legos create soft, full, wavy hair, but flat at the back and flat across the top. Seventies post-party, but the centre part hints back to the Spanish senorita.
A gentle neutral pink nail from O.P.I. completes the pool-side vibe (called Samoan Sand, it is the colour Jennifer Aniston wore at her wedding - how do these people know these things, and why?)
Take home tip: Lacquered red lips. And did I mention they match my bike?