Makeup is breaking out of the gloom for a colourful spring.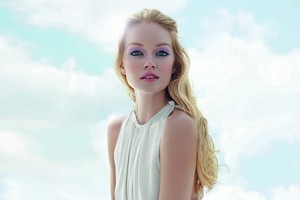 The newest trend in makeup is heightened colour for eyes and lips and - for the first time in years - sometimes both at once.
This is a real turnabout from the rule of thumb to have a pop of colour on one feature and to keep the other muted. In truth, this is still the safest way to go, but for the bold, extra colour works well, as long as it is balanced.
By mixing cooler tones with stronger colour, the look is more refined and wearable as seen in the palettes we picture. These slightly "off" bright shades for eyes are the best way to experiment with added enhancement, given that the single shots of bright yellow, cobalt, purple, and magenta that are about aren't likely to hold the same appeal, except to the truly adventurous.
Try subtler, cooler shades such as aquamarine or amethyst, lemon or pistachio. These are perfect for spring; fresher than neutrals and yet not overwhelming, especially if paired with a natural-looking lip and taupe or pewter nails.
As the weather warms, lift the lip colour, perhaps a tinge of lilac or peach, or go bolder with raspberry. For something truly dramatic, try blackberry. It's less obvious than red, but just as impactful.
If you are wanting to try primary colours, stick to just one or two at a time. Winged and striped 80s eyeshadow isn't having a revival, more modern is a feathered colour wash of one shade or a seamlessly blended complimentary mix of the likes of purple and pink and peacock green and blue.
A coloured mascara or eyeliner offers a way of reversing the usual order if you stay with safe shades on the lid, but want to inject a little extra interest around lashes.
If this sounds a bit much, never fear because the prevailing summer look in New Zealand tends to be little more than a slick of lipgloss and a hint of bronzer, so there will still be plenty of natural options to fall back on.
But as with fashion, cosmetic colour is coming on strong, so start easing your way into it now.
Clarins calls its new season's collection Neo Pastels, which is a nice way of describing soft shades that aren't sickly.
The Clarins palette (pictured) is one of my favourites because it balances added colour with serviceable shades, as does the Elizabeth Arden example. These are the sort of options to look out for, pushing beyond the safest choices, but always flattering.
Stockists: Brand counters or as stated. M.A.C from Smith & Caughey's, St Lukes and Britomart. Max Factor and Napoleon Perdis from selected Farmers, Rimmel also, plus Kmart and selected Warehouse stores. Essie and Butter London from salons and selected Farmers and salons.