An Auckland couple made the most of their wall space to give character to their U-shaped home.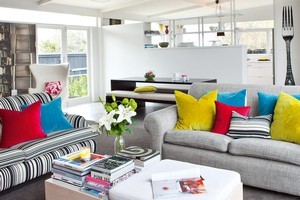 When a home on Auckland's North Shore, much admired by Sarah Sheild and her husband Chris came up for auction five years ago, they only found out the day before that it was for sale.
Luckily for them the Forrest Hill house was passed in, allowing the couple to make an offer and secure it.
"It was all a bit of a blur but it felt like it was meant to be," says Sheild.
The 1960s home appealed to the couple when they first saw it nine years ago, because they had always wanted to live in a U-shaped, architecturally designed home built around a central courtyard.
"The simplicity of design is what appeals about this style of architecture," says Sarah, co-owner of online wallpaper, fabric and accessories store The Paper Room, which recently opened at the Design Foundry in Ponsonby.
"I love all the windows as they bring in so much light and, although it's not large, it has a great sense of space."
The house had just undergone a makeover when the couple moved in. "The bathrooms had just been updated, along with new carpet and a fresh coat of paint throughout, but the kitchen was in need of an upgrade," she says.
"During the summer after we moved in I painted everything in the kitchen white, including all the rimu cabinets, the tiles on the island benchtop and splashback - just so I could live with it until we renovated. The orange-patterned vinyl flooring was a real eye-catcher: pure 1970s nostalgia."
A new kitchen has recently been installed.
"Initially, to keep within our budget, we decided not to reconfigure and went directly to a cabinetmaker to manufacture our new cabinetry. One week before the installation, [an] interior designer took a look and convinced me to move the oven and hob. We then redesigned the whole thing. It was very last-minute but I'm so glad he talked me into it," says Sheild.
Two brick walls in the living area were covered in wallboard to allow for wallpaper and wall stickers, a passion of Sheild's inspired by a trip to Australia with the Nanette Cameron School of Interior Design.
Sheild's love of wallpaper has helped to add personality and colour to her own home. She describes her style as "mildly pared-back with an element of quirky - I guess that's because I don't really do clutter".
"I adore living with colour and find it uplifting. It makes me feel happy. My philosophy is: have confidence in your own style and you will create a home that reflects your personality."
Style tips
Scale up: One of the latest trends in wallpaper is using large-scale digitally printed images.
Great lengths: Wallpaper used wall-to-wall makes the biggest impact but if that's not for you, feature walls or feature drops are still effective, as they give depth and character.
Drop zone: Consider using multiple wallpaper designs in a single space. "We have three in our living area, plus a large framed piece of Florence Broadhurst wallpaper," says Sheild. "They're all different but they sit harmoniously with our soft furnishings."
* Leanne Moore is the editor of Your Home & Garden. For the full story on this house see the latest issue of the magazine.