Wendyl Nissen butts in - and bottoms out.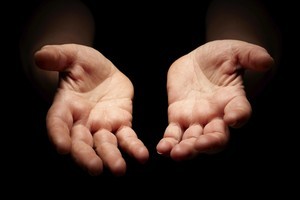 Let's get one thing clear. I am not the sort of person who pokes her nose into other people's affairs. Especially those involving two police officers on the street. I'm the person who just drives past and thinks to herself, "It's the cops, must be okay."
But this affair was different. Because the two police officers were hovering over a friend of mine who was minding his own business, sitting in the sun clutching his trademark umbrella. He's the homeless guy in my neighbourhood.
Before I knew it, I had screeched to a halt, backed the car up and got out.
"What the hell are you doing?" said a voice in my head.
"Watch," I replied.
I had once been a reporter on a newspaper who was well used to marching up to cops and demanding to know the situation at hand.
"Can I be of any assistance here?" was the first thing I said.
"Great, now you sound like a Remuera matron confronting two naughty schoolchildren picking apples off her tree," my inner voice groaned.
"I know. Bad start. It'll get better."
One policeman was leaning on his car in a very relaxed manner, while the policewoman put on her perseverance face and looked at me.
"We're all good here, thank you."
I looked at my friend. He's a shy sort of man who isn't prone to conversation, but is very well-spoken when he chooses to be. He peered at me from under his umbrella and grinned.
"Hi," he said.
The silence that followed did nothing to convince me that my presence may be unwanted and therefore I should shut up, get back in my car and shove off.
"This man is part of our neighbourhood," I found myself saying with even more of a Remuera matron tone. "He is a good man, no trouble at all and we all look after him. So I will not have you 'moving him on' for the sake of the Rugby World Cup!"
The cops both looked at me. Their perseverance faces had changed to incredulous faces.
My friend reached out and touched me on the shoulder.
"Ah, thanks mate," he said.
"No trouble, anything for a friend," I said, misinterpreting his gesture as one of affection, when in fact he was probably just trying to get me to stop.
Fat chance.
"He often sits outside my house in the sun and that is fine with me, fine with everyone."
"Great," said the policewoman.
"Right," I said.
"Good," she said.
"Just wanted you to know that."
There was nothing else to do but get back in my car and drive off.
"That went well," mocked my inner voice.
"Shut up."
I rang my husband and asked him if he thought I had done the right thing.
"No," was all he said.
"No what?"
"No we are not taking the homeless guy into our home during the World Cup."
"Well, we do have a lovely brick garage which we could fix up with a few things."
"No."
I rang my friend to see what she thought of my neighbourhood watch.
"Did you remember to pin your 'I hate pigs' badge on before you waded in?"
I did once own one of those. It was around the Springbok tour. Rugby obviously brings out the anarchist in me.
"They were probably just checking he had enough food and was warm enough," she said knowledgeably. "It's been really cold - I see those cops in the park all the time checking up on the guys. I think they're part of a special homeless unit."
"Oh," I said.
When I arrived home a couple of hours later, I was relieved to see our homeless man in his usual spot. I waved at him enthusiastically. He didn't wave back. Perhaps he was having a doze.