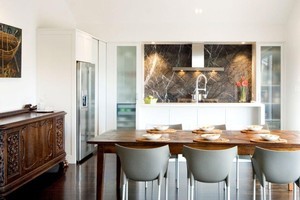 This year's Auckland Home Show opens on Wednesday with new attractions and a focus that suits the times - renovation. The show is the biggest event of its kind in Australasia, attracting more than 45,000 homeowners, renovation enthusiasts, DIY practitioners and decorating specialists throughout its five days.
A kitchen called YUM
MasterChef winner Nadia Lim will guest star at some of the 30 cooking demonstrations taking place in the Fisher & Paykel YUM kitchen. Other big names include Clooney head chef Des Harris, Peter Blakeway of Mills Reef and tutors from Maincourse and Sachie's Japanese cooking schools. The demonstrations are being presented as a VIP experience so attendees need to register at the Fisher & Paykel stand. Once inside the kitchen, they'll be plied with food from Farro Fresh Markets, Kohu Rd icecream and the Mills Reef winery.
From a Kiwi kitchen to something more European, spazioCasa and Applico (of Smeg and Baumatic appliances) has created a "Little Taste of Italy", occupying more than 1sq km at the show, showcasing the latest in Italian-made kitchen appliances, bathroomware and flooring.
If you don't sell, renovate
Renovation is a key theme this year, reflecting the estimated $1.4 billion spent on home improvements last year. Free home design and renovation seminars will focus on how to keep a renovation within budget and ensure its overall success. Speakers include Murray Kee of Finesse Residential, who says: "Kiwis, especially the blokes, need to rein in that number 8 wire mentality and get advice from industry professionals. Shop around before making decisions and do not let price dictate who to use." Kee will explain why preparation is paramount, and why you should choose everything from the right builder to taps before work starts.
Easy to be green
The Green Urban Living area of the Home Show will be a one-stop shop for all things sustainable in and around your home. Janet Luke, a pioneer of self-sustainable urban design, will be hosting free seminars to deliver simple, low-cost ideas for people to put into practice. Visitors can study green building products, solar power solutions, rain tanks, insulation, water savers, garden conservation and much more. You can also see a working, edible garden, created around the principles of permaculture and highlighting innovative methods for growing your own produce.
* The Auckland Home Show, ASB Showgrounds, Greenlane, Wednesday, August 31 to Sunday, September 4. Adults $12 (online) or $16 (at gate), children under-18 free.