Christine Sheehy ventures behind the scenes with an owner/trainer at Ellerslie Race Course.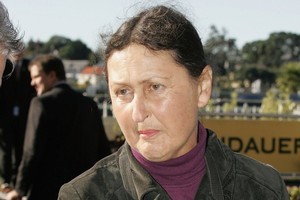 Ann Browne doesn't like fashion or boozing. She doesn't like speeches and she doesn't like to predict her horses' chances.
She just likes racing. Jumps racing, the season that runs over soft turf from April to September. It's more hot chips than high heels, this racing for enthusiasts. A different scene from the brasher summer affair, according to Ann. "No one's interested in how much money you've got or who's better than who," she says.
It's a chilly winter day at Ellerslie Race Course as 72-year-old Ann saddles up for the KS Browne Hurdle, the 3350m prestige jumping race named in honour of her late husband, Ken. Dubbed the King of Jumps, Ken rode 156 winners over fences.
Together, the Brownes trained winners of every major jumping race in New Zealand. Ten years ago Ken fell from a horse at home in Cambridge and was paralysed from the neck down. He died in 2006, just weeks after a Browne horse brought home the inaugural KS Browne Hurdle.
Ann says she has won the race "a few times" and plans to do it again today. The stables are off-limits to owners, but Ann is also a trainer and likes to fit her own saddles. She's dressed in a purple peach-skin trouser suit, her dark hair pinned behind each ear, one sensible black shoe in a puddle as she adjusts the straps exactly the way Fair King likes them.
She's been preparing these horses all year, first building endurance, then jump training. She won't rate Fair King's chances over her other starters, Mount Sinai and Big Brownie. "They're all fit," she says, head down, tugging on a strap.
At the stable door, two officials with suit legs stuffed into red-top gumboots check the horses' brands against official records, to ensure the right horse is running.
With the race about to start, Ann takes her seat above the birdcage in the members' stand. Several floors up, well-known commentator George Simon studies the race book from his spider-legged swivel chair. He will call the race by sight, tracking the field with binoculars.
Ann also watches through binoculars balanced on the elegantly-shaped fingernails of her left hand. The risk of a horse or rider tumbling is ever present and today the turf is thick and heavy, with an audible sludge as the horses trudge by.
But it's a good race for the Browne stable. Mount Sinai comes in first, then Big Brownie. Fair King finishes a respectable fourth. Ann allows herself a snip of a smile, before returning to the birdcage.
"That was good, Mrs Browne," says Mount Sinai's jockey, Shelley Houston, stepping on to the scales in her Browne stable's red and brown silks. "He was spot on."
Across the vinyl-floored corridor, a large black-and-white portrait of Ken Browne grins over the scene. Further down, a young jockey with a mud-splattered face waits outside the judicial room. His horse did not place, but he's weighed in 250g lighter than he weighed out. The judges issue a warning.
Auckland Racing Club CEO Chris Weaver wants to present the trophy immediately but Ann won't hear of it. "I've got to get three saddles for the next race." Other owners might delegate, but that's not Ann's style. Besides, she thinks presentations waste time. "They talk too long and people get sick of it."
After the last race, the diminutive duo of Ann and Shelley mount the dais. "I thought I had a chance with one of the horses and it worked out well," says Ann, her soft words barely audible over the PA.
With that she's whisked into the Winners' Circle, a small bar just off the birdcage where her customary Baileys is already poured. There are more speeches and Ann is visibly pleased to be presented with two horse blankets.
The moment the presentations are done, she swishes and sips her Baileys, grabs a chip from a nearby table and, gathering her spoils (a trophy, a silver platter, champagne, the blankets and the promise of almost $20,000 in prize money), ducks out of the door.
Dates
The next chance to see the Browne stable in action is this Saturday, September 3, at the Rodd & Gunn Great Northern Day. Gates open at 10.30am and racing gets underway around 11.30am. General admission $5, children under 15 free. Additional Rugby Race Days will take place on September 24, October 16 and October 22 to tie in with the World Cup.