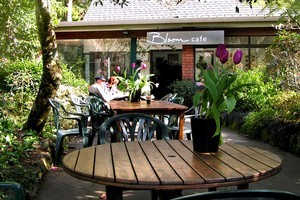 Committed environmentally and socially conscious cafes win badges - like Brownies, only cooler.
1. Altezano Espresso Bar
1 Kent Street, Newmarket. (09) 529 0188, 7 badges
Indulge in a ham and cheese crostone and a long black, before you head to a movie at the Rialto - perfect! Smooth coffee styling, seasonal menu, slick service and stylish interior.
2. Bloom Cafe and Function Centre
24 Omana Avenue, Epsom Auckland. (09) 638 8385, 7 badges
Set in the spectacular Eden Gardens, Bloom Cafe has a light- filled conservatory, with china teacups, heart-warming seasonal dishes and organic Kokako coffee, and it's child friendly, too.
3. Domain & Ayr
492 Parnell Rd, Parnell, Auckland. (09) 366 4464, website pending, 9 badges
Formerly known as Kokako Cafe, this streamlined cafe has a mostly organic menu, superb organic coffee, exceptional service, and a sense of finesse in every corner. If you are in the CBD, check out their sister cafe, Federal & Wolfe.
4. Little Hero Cafe
181 Pt Chevalier Rd, Point Chevalier Auckland. (09) 845 3429, 8 badges
This eclectic boutique cafe and grocery store is dedicated to all that is organic. Foods are imaginative and wholesome, the interior is rustic, with comfy couches, and the kids' play area is impressive.
* Check out the link for more information on conscious consumers cafes.