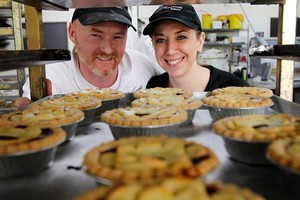 Shane and Kathy Kearns worked 24 hours kneading, mixing and icing last week to complete their 15 masterpieces for the Bakery of the Year Competition.
But the icing on the cake was walking away with their second baking award in just over a month.
Viands Bakery in Kihikihi, which the couple own with Mrs Kearns' parents and two brothers, took out the BIANZ Bakery of the Year Competition on Saturday in Napier.
The win came only weeks after their specialty fruit pie superseded the traditional Kiwi favourite of mince and cheese in the Bakels New Zealand Supreme Pie Awards.
The latest award for a range of scrummy treats including specialty breads, an impressive five-storey glazed gingerbread house for Santa's elves and a detailed cake in the shape of the Webb Ellis Cup has given their business another boost.
Since winning the award for the country's best and, unarguably prettiest pie, Viands Bakery has gone from making 300 pies a day to 500 and their turnover has risen by 30 to 40 per cent.
"Basically everything went up. It's quite hard to keep up with demand," Mrs Kearns said.
Viands went from selling four to five of the spiced plum, port and apple pie with a petal-topped pastry a day to between 450 and 500 the week after it was named the favourite.
But it's not just the award-winning pie that has been a hit for the Kihikihi bakery, they've also been selling bread, cakes, slices and filled rolls.
The Kearns, who already work seven days a week, have roped in friends and family on top of the 20-plus team to help them keep up with demand.
Kathy's older brother Grayson is working in the kitchen and they can't wait for Kearn's parents John and Linda Atwill and younger brother Shannon to move up from Hawkes Bay to help run the family business. They jokingly call themselves the "baking mafia'
"We are not starting any earlier but we are working these people harder," Mrs Kearns said.
At lunchtime cars are parked up one both sides of the road outside the bakery, and another two rows are queued up in the parking area. "It's like a drive-through."
The Kearns and Atwills bought Viands in November 2010 to pursue their dream of owning a family-run bakery and so far it has more than exceeded their expectations.
Mrs Kearns said they knew their pies were good from their 16 years running the Wairoa Bakery but didn't expect to take out the baking world's two biggest awards in the first year.
"We knew we were successful in the last bakery but we didn't know how it would go with a new team, new bakery and new temperatures even."