There is an art to creating the perfect Fashion Week invitation.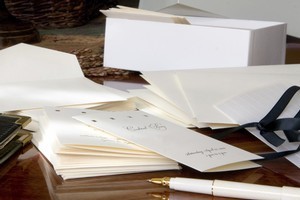 Fashion Week may officially begin on Monday morning, but the show experience has already started for many, with invitations arriving in inboxes and letterboxes earlier this month. These show summons act not only as a status symbol ("I got mine, did you get yours yet?"), they offer a glimpse into what each designer will present on the runway, represent the image of the brand, and, if done well, can also be little pieces of collectable art.
In recent years, NZFW invitations have tended to filter in initially via email, with the focus on the art of the PDF rather than in a printed or tangible form - a much more efficient, environmentally friendly and, ahem, cheaper option, but the digital format will never match the impact of something real. Physical manifestations of these invitations often later appear in delegate bags, although most rely on printed lanyards for their seating arrangements - fashion insiders clutching beautiful pieces of card on their way into shows overseas may be a recurring theme on street-style blogs like Jak and Jil, but here, we do low-key swing tags. There have been, however, various memorable moments in the past - an eerie video from Kate Sylvester, Trelise Cooper's take on a stained glass window, a retro-style hand-written note on refill from Lonely Hearts, enormous oversized posters from Zambesi, a Salasai Viewmaster wheel, a Nom*D cassette tape - however, creativity may be suppressed slightly due to the A5 size limitation encouraged by NZFW organisers, so they fit inside delegate packs.
Overseas, invitations can reach especially imaginative and innovative heights, and size, from Vena Cava's cut amethyst to Betty Johnson's gingham oven mitt; a hologram from Alexander McQueen and inflatable figure from Tsumori Chisato. Then there are the mixed media invitations that get 10 points for originality - an "invite within a story" from young American designer Rachel Antonoff, Stella McCartney's "magic tree" invitation, Henry Holland's cotton bandanas printed with the essential details of his London Fashion Week show, and a mock prescription box complete with peppermint "pills" inside from Australian designer Dion Lee. Mulberry's invitations are often as adorable as their campaigns, reflecting the ideas behind the brand - recent invitations have included a modern and luxe take on childhood "fortune teller" fold-up paper games, a paper doll, and cat mask covered in glitter. Moschino has also become known for its quirky invites, which over the years have ranged from a collectable booklet to a Moschino Rubik's Cube to a candy box. At a Milanese exhibition in 2009 that examined the subject of fashion, art and design invitations, the Italian brand had an entire section dedicated to their creative show summons. Creative director Rossella Jardini explained to British Vogue, "The invite for a Moschino show is an introduction. A foreword to a story that the fashion show will tell. I think since the beginning of our history the invite has been a short explanation that puts the guest at ease: it is like when you invite somebody to dinner, it hints at what is to come. It is in this way that the invite is very important, because it gives in advance details that will be unveiled during the fashion show as part of the collection itself."
Then there are the more traditional invitations, which may be less gimmicky but are just as powerful and luxurious - thick card stock, hand written notes, textural fabric wrapped covers, or all of the above. A recent Louis Vuitton invitation was made of thick black plastic, with laser-etched show information and a hand-written guest name, complete with tasselled adornment. Other designers may use a less luxurious paper stock, but focus more on the graphic design or size of the invite to make an impact.
Fastidious fashion watchers can glean a glut of information from a relatively vague invitation - through imagery, colours choices, typography or concept, they can hint at themes or ideas behind the collection. And in an age where text message and Facebook invitations have almost ended the need for something physical, when something special comes along it makes a memorable statement. As Michael Rawlence, founder of local luxury stationery business Rawlence and Horton (and former part-owner of a British company that held the royal warrants to provide stationery to Queen Elizabeth II), explains, an invitation is the first impression for any event, whether it be a fashion show or a dinner party.
"An invitation offers the first glimpse into the occasion they are being invited to; it sets the scene and creates a level of expectancy. Whether it's implementing an existing brand or creating a buzz for a specific occasion, the invitation is the first tangible perception people are going to have of the event in question."
And for fashion editors or social butterflies who receive piles of invitations, an especially beautiful invite will stand out. As Rawlence explains, "Often the nature and quality of the invitation will determine which functions the invitees will prioritise, so it's important to place emphasis on maximising the quality and impact of the invitation to further one's own event and brand".
Michael Rawlence's invitation trends:
* "There has been a shift in the direction of using matt [non-glossy] stocks which traditionally have a better quality feel to them and are much more conducive to all types of print processes. They also offer a big point of difference with all the gloss, shiny card and paper that is being used at the moment."
* "A greater choice of print processes available has led to more people having raised or depressed lettering on their invitations. Heat-raising the text on a corporate invitation or using letterpress as a technique for a thick wedding invitation is a sure way of making a telling first impression. Or for that truly memorable occasion, engraving the text on an invitation is an option, which was recently seen on William and Kate's invitations."
* "I have also noticed a preference to keep things relatively simple, especially on wedding invitations. Where previously there would have been an abundance of non-descript patterns, now there might be only one motif with the wording. The old saying of simple is effective is ringing true here."