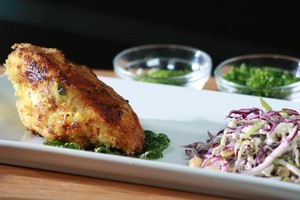 2 free-range chicken breasts
3 tbsp cream cheese
2 cup fresh spinach, blanched
½ cup parmesan cheese, grated
2 tsp Pure Wasabi Paste
2 skewers
¼ cup flour
1 egg, lightly whisked
1/3 cup panko breadcrumbs
sea salt and pepper
Olivado Extra Virgin Olive Oil
1 Preheat oven to 180C.
2 Process cream cheese, spinach, cheese and wasabi together to form and paste and lightly season. Stuff chicken breast and skewer shut.
3 Roll breast in flour, then egg, then breadcrumbs.
4 Place on a well-oiled baking dish and bake for 30-35 minutes or until the chicken is cooked right through.
Peanut slaw
1 cup green cabbage, finely sliced
1 cup red cabbage, finely sliced
handful chopped chives
handful chopped parsley
1-2 tsp good quality balsamic
3-4 Tbsp mayo (I like to use Japanese mayo)
1/2 cup peanuts
sea salt & pepper
1 Mix together both cabbages, and herbs. Just before the chicken is ready, mix in the mayo, balsamic, peanuts and season to taste.