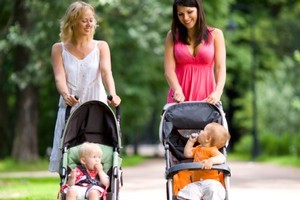 Parents who push their children in outward-facing prams are cruel and selfish, a leading Australian child health academic says.
Professor Cathrine Fowler, from the University of Technology Sydney, claims strollers that point children in the direction of travel are isolating, stressful and terrifying.
"Imagine if you were strapped to someone's chest with your legs and arms flailing, heading with no control, in a busy shopping centre. It would be terrifying. It is the same for our children," Professor Fowler, a mother of two, told the news.com.au website.
"Outward-facing baby carriers and prams give babies a bombardment of stimulus, creating a very stressful situation. In not considering our baby's perspective, we are inadvertently quite cruel to children."
But midwife Robin Barker, author of Baby Love, a bestselling book on child-rearing, said parents had enough to worry and feel guilty about without considering which way they push their child in a stroller.
"This is just another thing that can worry mothers," she said. "What babies need is parents who love them and feed them and if that's in place then which way the pram faces is irrelevant.
"I don't think there is an issue with letting children experience the world before they are 12 months old."
Ms Barker also pointed out that some inward-facing prams cost up to $2000, or 10 times what you can pay for an outward-facing one.
Associate Professor Hannah Dahlen of the Australian College of Midwives said many children got bored facing inwards after three months.
"There is absolutely nothing wrong with children looking forward and watching stimulus around them."