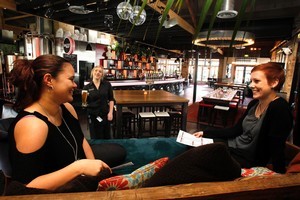 For some reason, I wanted to dislike Sale St. That's a terrible thing to admit, but everything I'd heard about it had been so gushingly enthusiastic I decided that all these people couldn't be right.
I was wrong; oh boy was I wrong.
I went in on a rather chilly evening about 6pm and to my surprise it wasn't packed. It was busy all right, but it was no trouble to get served by a very helpful and friendly bartender. The place looks excellent, with a great, laid-back layout and comfy armchairs and sofas.
But the best part is the brewery that produces many of Sale Street's beers, including the award-winning Nana Bennett's Xmas Pudding Ale, a truly brilliant beer that has become something of an obsession with me in recent weeks.
There is also a fantastic wheat beer and possibly the most interesting pils I've had for a while, the Garganta Cuente, or Hot Throat, a Mexican-style pilsner infused with chillies.
I took my beer outside to the large and well-appointed - and most of all warm - deck area and sat back a happy man. There was some nice jazz-funk playing in the background, the beer was top-notch and here I was happy as Larry to be proved wrong - even the presence of a bunch of oil company types blathering on about how great they were couldn't dampen my enjoyment.
The menu is well-thought-out, but it is on the pricey side, so be warned. Similarly, the wine list is extensive and expensive, although there are some more modestly priced gems on the list.
There is also a full-on restaurant on-site if you fancy something more formal, but really there is little need.
The bar is virtually all things to all people. It caters to the desperate-to-be-seen crowd, the after-work drinkers, the beer lover and the foodie. Truly it is a jewel in central Auckland's crown.
THE VERDICT
* Service: 4.5 / 5
* Drink: 4.5 / 5
* Food: 4.5 / 5
* Atmosphere: 5 / 5

SALE ST: THE DETAILS
Where: 7 Sale St, Freemans Bay, Auckland
Phone: (09) 307 8148
Website: www.sale-st.co.nz
Open: Tues-Sun 11.30am-late, Mon 3pm-late.