Champagne is usually though of as the celebration tipple, but a range of wines are perfect for weddings.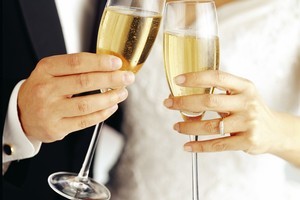 Life's too short to drink bad wine and when starting out in married life it would seem propitious to toast the future with some decent drops. Catering for a large party can be costly, but there are plenty of fantastic and affordable wines out there to accompany the nuptial feast.
As well as bubbly for all budgets, I've selected a range of great value bottles across a spread of versatile styles, with something to match most tastes and wedding menus. And, if there's no one on your wedding guest list with the ability to turn water into wine, make sure you buy enough to last the duration of festivities - half a bottle per person is a conservative guestimate, but it's better to buy in more than to risk running short, with most good wine stores offering sale or return.
Champagne Pol Roger Brut Reserve NV $89
Royal warrant-holder, Pol Roger was the champagne sipped with canapes at the wedding reception of Prince William and Catherine, now the Duchess of Cambridge. Consistently classy and certainly fit for a king, the Pol Roger juxtaposes fresh notes of green apple with a rich savoury nutty undertone.
(From Glengarry.)
Shooting Star Methode Traditionelle Sauvignon Blanc NV $22-$24
Made by ex-Cloudy Bay winemaker, Eveline Fraser at sparkling supremos No.1 Family Estate, this is one of the most stylish sparkling sauvignons I've seen so far. It's softly textured with fresh notes of passionfruit, guava and tangy lime. (From Glengarry.)
Sileni Cellar Selection Sparkling Brut NV $20
Great value local fizz that combines crisp apple fruit with more complex bready, nutty and honeyed notes. (Widely available from supermarkets and fine wine retailers.)
Rochfort Rees Marlborough Sauvignon Blanc 2010 $16.99-$19.95
Sauvignon is deemed essential at most Kiwi social events, and this one is a sophisticated example, with its fresh line of lime with tomato leaf and savoury herb, oyster shell and mineral. (From www.blackmarket.co.nz)
Kate Radburnd Sun Kissed Hawkes Bay Pinot Gris 2010 $17.95
Pinot gris is a guaranteed crowd-pleaser, and a drier style like this is also a versatile food wine. From the new lower-priced range of CJ Pask's respected winemaker, Kate Radburnd, this is creamy textured with notes of peach, mandarin, spice and a hint of acacia honey. (From selected New World supermarkets, kateradburnd.co.nz)
Kingfisher Bay Marlborough Rose 2010 $9.99
Cut-price picks can be sourced through online retailers such as Blackmarket. With its creamy notes, fresh citrussy character and pretty raspberry and strawberry fruit, this aperitif-style rosé is a steal. (From www.blackmarket.co.nz)
Saltram Mamre Brook Barossa Shiraz, Australia 2008 $21.99
A big, bold, classic Barossa shiraz with rich, ripe and concentrated dark berryfruit, laced with a liberal lick of cedary spice and liquorice. (From fine wine retailers.)
Te Awa Left Field Hawkes Bay Merlot Malbec 2009 $24
A seriously good bordeaux blend from Te Awa's second label, Left Field, which won the trophy for champion cabernet sauvignon or merlot/cabernet blend at the Air NZ Wine Awards - no doubt for its elegant, fresh and supple palate of blackcurrant fruit, lifted florals and subtle seasoning of spicy oak. (From Glengarry, Fine Wine Delivery Company, New World.)
Wild Rock Pania Hawkes Bay Chardonnay 2009 $21.95
A lightly oaked chardonnay is also a good all-rounder to accompany a wedding feast. From the Craggy Range stable, the quality of this classy chardonnay by Wild Rock, with its notes of stonefruit, nectarine, citrus and nutty toasty undercurrent, belies its modest price. (From fine wine stores.)
Lonestone Central Otago Block 1 Pinot Noir 2009 $13.99
Cheap pinot noir can be chancy, but this one by Lonestone delivers plenty of varietal character in its smooth and ripe plummy palate underpinned by savoury nuances and a dusting of roasted spice. (From www.blackmarket.co.nz)