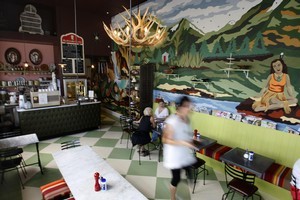 "This is not a comprehensive, technical or 'serious' book on New Zealand wine," states Michael Cooper in the preface to his latest title, 100 Must-Try New Zealand Wines ($34.99, Hodder Moa). In this new offering, Cooper cherry picks his top bottles which span the country's high-end classics to more budget conscious buys, supported by in-depth background on each, as well as a tasting note.
How convenient
The Auckland Food Shopping Guide is an independent electronic directory, researched and created by the clever team at Finding Flavour and it means that you can have a huge range of specialist food-makers and suppliers in the urban Auckland area at your fingertips. There are website and map links, store details, and tantalising suggestions for what's good at each location. What's more, because it's in PDF format, it can be regularly updated. $11.90. Check it out at www.findingflavour.co.nz
Nice touch
Ladies and gentlemen, take your seats. One of our favourite cafes, Queenies Lunchroom in Freemans Bay, is now offering table service.
Given their food is of such a high standard, the Queenies team felt it was time to take the cafe to the next level. We think Her Majesty would approve.
Hola
City dwellers and workers rejoice - there's an authentic Mexican eatery in town. Jalapeno's Mexican Grill bills itself as the "real Mexican experience" being Mexican owned and operated and using imported ingredients to create their tortillas and nacho chips, zingy sauces and fiery jalapenos, and fresh beans - cooked every morning. Dine in or take away tasty corn or flour tacos with your choice of grilled meat with home-made pico de gallo and salsa Mexicana or maybe a filling burrito with chipotle beans. Plans are afoot to extend the menu to include, among other things, imported Mexican beers and tequila, which should make dining in a real fiesta. 12, Shop B, O'Connell St, City, ph (09) 377 8384 or www.jalapenos.co.nz
All aboard
Wondering what to buy for Father's Day? Here's the perfect gift which helps Hospice South Auckland raise funds at the same time. Their Charity Steam Train Excursion, on Sunday November 20, goes to and from Papakura Station with a pick-up/drop-off at Newmarket. You'll enjoy all the comforts of this old steam beauty as you make your way to Helensville for a picnic lunch via the waterfront and Waitakere. Includes morning tea on board, a gourmet lunch box and a glass of wine on the way home. Tickets are $150 per person, see www.hospice.co.nz
Visitor to the Hawkes Bay
Top chef Josh Emmett will be taking over the kitchens at the Craggy Range Vineyard restaurant Terroir on August 26 to put together a special dinner. Emmett is famed for working with Gordon Ramsay and being a judge on MasterChef. The dinner will be matched with Craggy Range wines. $185 per person. To book, ph (06) 973 0143.
Put it on the list
*Grizzly Bear Ginger Beer Rarr! Just hearing the name makes the hairs on the back of your neck stand up! New Zealand-made alcoholic ginger beer from The Boundary Road Brewery in the Hunuas. $13.99 from leading supermarkets.
*For a sweet, guilt-free treat try the Little Bird Passionfruit & Macadamia Macaroons Made from raw, entirely organic ingredients, you just know they're good for you. $9.79 from Farro Fresh.
*Bring extra flavour to your next roast and cook your potatoes in duck fat. We recommend the tubs of clarified Saveur Duck Fat available at the Westmere Butchery, 131 West End Rd, Westmere.
* For a scrummy treat try the Beetroot and Blue Cheese Quiche at Little & Friday, Melrose St, Newmarket. Just one of the scrummy things on this cafe's counter.