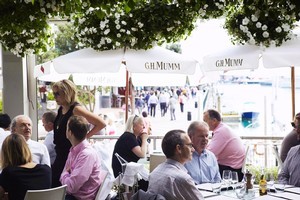 Judith Tabron's Soul Bar and Bistro at Auckland's Viaduct has, in the past 10 years, become a landmark of Auckland's restaurant scene. Great food, great people and a great location has ensured its success.
To celebrate, Tabron, a respected player in the industry for more than 20 years, and her head chef Gareth Stewart have launched the Soul Cookbook - which, with 75 mouth-watering recipes, takes you behind the scenes and shares what makes this restaurant unique. Throughout the year, Tabron has developed a host of special events at Soul - for which tickets sell like hot cakes. Here, in an extract from the book, we get a look at two of the most popular days.
Melbourne Cup Day
On the afternoon of the first Tuesday in November, everything in New Zealand stops for a horse race. Despite the Melbourne Cup being run in Australia, Kiwis embrace the spirit and fun of the premier racing contest in the Southern Hemisphere. Perhaps it's our fiercely competitive nature or the fact that on many occasions the winning horse is bred and trained in New Zealand.
When Judith Tabron was running her previous restaurant, Ramses, TV3 asked her to hold an early Christmas party for staff and clients. Together they came up with the idea of basing it around a Melbourne Cup promotion. TV3 organised the television screens and totaliser so that live betting was possible. The day was a huge hit, and every year since Judith has run a Melbourne Cup lunch, first at Ramses and now at Soul.
Soul's Melbourne Cup Day has developed into a grand affair, with all sorts of fun competitions and events throughout the afternoon as the atmosphere builds towards the running of the key race. Lots of prizes are handed out. The women dress up, many sporting elaborate hats in the Melbourne Cup tradition. The men display sartorial elegance in the hope of picking up the "best-dressed" award. Wine options are held at the bar, races for "fillies" in spiky high-heeled shoes take place on the path in front of the restaurant and men show their sporting prowess with competitions involving quoits. There are sweepstakes and raffles to enter.
And, of course, there is fabulous food. Lunch is served a little later than usual, with a specially prepared menu for the 300-or-so diners and the tote is kept busy all afternoon. By race time, around 5pm, Cup fever is at a high pitch, the wine is flowing and the many screens throughout the restaurant display the horses as they run for their lives. Fortunes are won and lost, but regardless of success, everyone declares they'll be back the following year for this fun promotion.
Bluff Oyster Day
The opening of the Bluff oyster season has long been heralded by New Zealand food lovers as a day of celebration. The world-famous Bluff oysters (tiostrea chilensis) are dredged from the depths of Foveaux Strait, the sometimes wild stretch of water that lies between the South Island and Stewart Island in New Zealand's deep south. A connoisseur's oyster, this plump shellfish is sweet, savoury, silky and seriously luscious. No event at Soul is more popular than the Bluff Oyster Luncheon and it is usually booked out within 15 minutes of the website announcement.
Several years back, Judith decided she'd like to offer patrons the very first oysters of the season. She needed to fly them to the restaurant and wanted to shuck them to order. She invited Keith Lovett to fly up to open the oysters in full view of the crowd on Soul's terrace. Keith reigned as Bluff's champion oyster-opener for seven years until 2010, when he bent his knife on the second oyster he opened in the competition and was severely handicapped in his bid to be the fastest shucker to complete 50 oysters. (Even so, he only lost by four oysters and, in 2011, Keith returned to form and is once again New Zealand's fastest oyster-shucker.) He has become pivotal to this annual celebration at Soul, and enjoys his annual trip to Auckland with his wife, Raewyn. One thousand dozen of the delicacies are flown in on the day. Keith, assisted by oyster-opener Marie Bradley from Nelson and chefs from the kitchen, flashes his knife beyond the speed of light and the oysters pile up on platters to be devoured with lemon wedges and a simple vinaigrette. Customers munch through as many as two or three dozen each, as there is no limit for these oyster lovers.
And just when some start groaning they've had enough, Gareth starts sending out dishes of oysters cooked in different ways: deep-fried battered oysters, oyster chowder, beef and oyster pies, grilled oysters with interesting toppings and more. If that's not enough, platters of simple freshly shucked oysters can be ordered again!
* The Soul Cookbook (Random House $60) will be in bookstores from August 19.