Find more restaurant reviews with our Google map
Address: 34-37 Jellicoe Street
Phone: (09) 303 1002
Website: jacktar.co.nz
Cuisine: Gastropub-ish
Rating: 6/10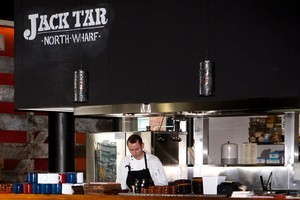 Auckland needs more new restaurants to open up. Sounds like a slogan from a Tui billboard don't you think?
Nonetheless, I'm as susceptible as the next person to the allure of a new eatery so as soon as the bridge to Auckland's latest precinct, the Wynyard Quarter, was lowered last weekend, I paid a visit to North Wharf to see what all the fuss was about.
I'd heard that getting to launch date was a huge task for many in the line-up of new restaurants, cafes and bars down there but one that already seems to have hit its straps is Jack Tar.
With big red sliding wooden doors, exposed beams and a tin roof, Jack Tar has a rustic portside charm that makes you feel at home as soon as you walk in, and that's probably why it was the busiest eatery by far on the second night of North Wharf's opening.
The name originates from the term used to describe sailors who, before the invention of hi-tech waterproof clothing, would coat their canvas outerwear in tar to ward off the elements. Smart men, those old sea dogs.
Likewise the owners of this new eatery, who have cleverly developed a space and a menu that is safe and middle-of-the-road enough to be a perfect fit for this new area, which has been designed to offer a family-friendly atmosphere, in contrast to the other side of the Viaduct Basin.
Jack Tar's menu covers all the common bases; ribs, pork belly, salt and pepper squid, pizzas, burgers, a Caesar salad ... you get the picture, and all priced very reasonably.
We positioned ourselves by the busy open kitchen and were amazed to see the number of giant loaves of freshly baked bread, with dips, and colourful enamel jugs of fries being ferried past us, likewise the crispy based pizzas and tall burgers.
However, we wanted to test the kitchen on more than just these short-order, quick-to-prepare items.
We began with fish cakes and they were tremendous. Hand-shaped and served with a house-made sweet and punchy pineapple and chilli jam, they were packed full of bluenose and salmon, pepper and parsley, and crumbed and fried to a golden crisp.
The other starter we'd chosen, pork belly, wasn't as interesting, even with its apple and fennel chutney. More fool us for ordering such an overexposed dish I suppose.
Burgers and pizzas flew past us while we waited for our meaty mains, giving us a chance to absorb the atmosphere. The Jack Tar staff already looked to be operating as a finely-tuned and happy team.
They worked the large restaurant floor fluidly and efficiently while still maintaining their humour and friendliness in the face of the inevitable kinks still being ironed out. The bar and booth-seating areas were packed with groups that seemed happy to have found the latest addition to Auckland's rapidly developing waterfront.
The arrival of our mains curbed our people-watching.
I tucked into lamb cutlets and my friend, a scotch fillet steak. The menu had promised the cutlets with a mint pistou (very nice) and a potato and bacon salad.
The cutlets were tender and juicy, but sauteed potatoes with a scattering of bacon pieces and a splash of oil does not a salad make, in my view. The steak came crowned with a knob of herb and garlic butter and, though it hardly broke new ground in the steak department, it was perfectly satisfactory.
What we did enjoy was the fact that the portions were not overly gratuitous, as can often be the case in these types of restaurants where value is derived from quantity alone, and put ahead of quality.
Jack Tar at least has this under control, which is perhaps another smart move of the owners, as we still had room for dessert.
But the "Chocolate Nemesis Torte" my friend ordered was indistinguishable from your average reheated brownie and though my choice of vanilla bean sponge was a great concept on paper, it didn't translate well to the plate.
Served with toasted coconut and chocolate sauce, it was quite solid as opposed to the featherlike sponge I was hoping for.
Fancy food this is not, but if you're up for a casual, reasonably priced meal in Auckland's most recently developed and fabulous new public space, then Jack Tar will likely fit the bill.
My recommendation; grab the family and head to Jack Tar for the burgers and pizzas, they looked great.
From the menu: Fish cakes $16, pork belly $16, lamb cutlets $28, scotch fillet $28, tomato, olives and feta $8.50, chocolate torte $12, vanilla bean sponge $12.
Drinks: Fully licensed.
Rating guide: 1-4: not good enough. 5-6: okay but needs work. 7: recommended. 8: Excellent. 9-10: outstanding, book immediately.