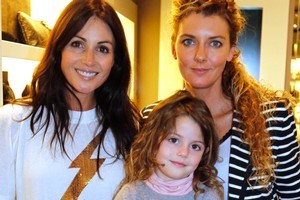 A star-studded crowd of mothers and daughters greeted the launch of Gucci's high-priced new children's collection yesterday.
Designer Sally Ridge has occasionally modelled lingerie, and her 17-year-old daughter Jaime now does the same. But yesterday her daughter, 4-year-old Mclane "Chicky" Parore, stole the limelight.
"Chicky is modelling for them," Ridge said. "She was so excited. She loves modelling."
Mclane is the daughter of Adam Parore, a former international cricketer. Jaime's father is former All Black Matthew Ridge.
Sally Ridge acknowledged the price was off-putting - but suggested a Gucci coat might be a practical purchase for Chicky.
"Kids grow so quickly but I would buy something she would wear a lot like a coat."
Tiny coats sell for almost $500 at Gucci's flagship store on Auckland's Queen St.
The designer range of children's clothes also includes a boxed set of four pairs of baby socks, for $165.
The launch of the collection for newborns to 12-year-olds was catered with champagne and canapes for the adults, mini milkshakes and lollies for the tots.
New Zealand's Next Top Model judge Sara Tetro took the opportunity to try on a pair of Gucci shoes she had her eye on, ahead of her Saturday night out.
Gucci spokeswoman Rebecca Amos said the collection was "inspired by the English countryside" and included mackintosh raincoats, double-breasted jackets and riding boots.