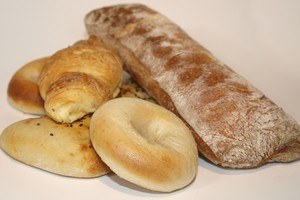 There's a good reason real estate agents tell you to bake bread when you're having an open home. On a primal level, it's the scent of belonging, of warmth and of family. Health experts can tell us till they're blue in the face that salad and lean protein are the way we should eat, but there are few of us who can really resist a slice of warm freshly-baked bread oozing with melted butter or a flaky croissant, straight from the oven.
Not many modern families have time to be kneading and proving and making old-fashioned baked goods from scratch. And that's when you must look to clever people like Adam Blackwood. After being bowled over by the quality of breads he saw in Europe he decided he had to bring that concept home and in 2007, Blackwoods Bakeries was born.
It started as a little stall at Clevedon Farmers Market, selling bagels and pita bread. Now, four and a half years later, it's 48 products in 45 different markets from Auckland to the Waikato - 16 of those markets weekly. Everything is made using traditional methods without any additives or preservatives and it's still all hand made, shaped and baked - even the French pastries with their 81 layers!
There's breads, pastries, bagels, pizza bases, flatbreads and slices and variations within each of these categories. The thin Italian pizza bases come in plain, oregano and olive rosemary and the bagels come in plain, sesame, garlic poppy, olive rosemary, onion, cinnamon raisin and wholemeal.
We loved the ciabatta and bagels (perfect after just a light toasting) and the cherry almond croissants would have to be our favourite from the pastry department. They also do a rather good caramel slice with walnuts and almonds on top and a ginger crunch which had hunks of crystallised ginger in the icing to add to its already-appealing taste.
Where to buy
You can find Blackwoods products at the following markets and more: Howick, Cambridge, Mairangi Bay, Oratia, Pukekohe, Silverdale, Blockhouse Bay, Pakuranga Night Market, Browns Bay, Manurewa, Mt Wellington, Hamilton, Orewa, Pokeno and Titirangi. If you check their Facebook page (Blackwoods Bakeries) they post the markets for that particular weekend every Friday.