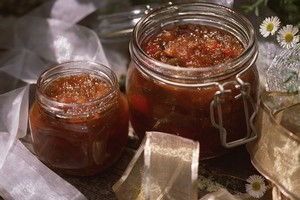 The executive chef of dine by Peter Gordon at SkyCity answers your cuisine questions.
A capsicum plant in the back yard has been producing way more fruit than I could eat fresh. Do you have suggestions for a capsicum relish or chutney recipe that can use it up? What other things could I do to preserve them, other than freezing? - Linda
Remove stems and seeds, blitz in food processor with fresh chillies, garlic and ginger, then cook with diced onions and apples, sugar and vinegar to make a lovely relish.
I was recently given a 80g jar of Black Truffle salsa from Italy. Can you please advise me on the best way to use this? - Carol
Best thing is to taste it, and if you like it you could mix into pasta with a little cream and baby peas (frozen are fine), or spread on bruschetta and top with sauteed mushrooms. Use to stuff a chicken, mixing it with breadcrumbs, sauteed onions, thyme.
What is the secret to cooking fried eggs so that they don't stick to the pan or, worst of all, the yolk breaks when you are turning them or taking them out of the pan? - Belle
Invest in a good pan (non-stick helps your first issue of sticking). Hot pan, then oil or butter (or a lovely mixture of both). You just have to lift them gently to prevent them breaking.
I was wondering if you have ever come across samphire in New Zealand? I miss being able to buy it at the fishmongers in London (when in season) and wonder if it can be found here or if I just have to salt young asparagus? Not quite the same, is it. - Annabel
I've not seen it in NZ but there were seeds available on Trade Me last October - so it may be out there. Occasionally Auckland Fish Market has frozen seaweed from Japan.
Ask Peter a question
Send your questions to askpeter@nzherald.co.nz