Many women suffer from bladder control issues and avoid doing anything about it. Gill South seeks out a few simple solutions.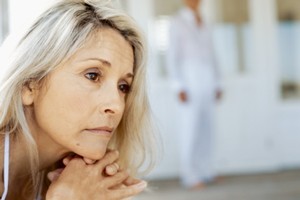 Well, girls, my column about that hot stone massage at the Langham seems a looooong time ago as I lie on a therapy table and get assessed for the strength of my pelvic floor muscles by physio Carol Armitage. I get to check the strength of her muscles too, pressing down on her lower belly as she braces and contracts. And my word, this mother of three, is strong down there. She could flip pancakes with her inner core muscles.
Why am I here? One in three women have Stress Urinary Incontinence. Carol worries that the ever expanding pad section in supermarkets is normalising the problem. Women often come up with strategies which mitigate their bladder control issues, she says. They don't drink too much, they don't do exercise, they use pads, they have a mental map of where all the public toilets are. The women's health specialist says as you get older, your pelvic floor and inner core muscles are only going to get weaker, so the stronger platform you can build up now, the better. Carol does give me some good news. It's pregnancy which can weaken your pelvic floor and inner core, not whether you have a caesarean or a natural birth. So there, Posh Spice!
Apparently 40 per cent of women don't know how to do a pelvic floor exercise. And because they don't know if they are doing it right, they don't do it at all. That's women's logic for you. With NatraTone, Carol and her business partner Trisha Coombes, have come up with a pelvic floor and inner core exercise programme and a simple training aid to help identify the right muscles while doing your exercises.
Men, look away at this point. You put this thing shaped like a measuring spoon into your vagina making sure it sits low, and when you clench in the right places it stays there snugly. If you do it wrong it pops out. Couldn't be simpler. You do this three times a week for five minutes.
The testimonials for NatraTone talk about enriching your sexual experience, improving leakage and being confidently able to identify the right muscles. For me, it's knowing that I am doing my pelvic floor exercises correctly that I'd like help on. It's all terribly vague down there. You only need to use the doodacky for six weeks, then you should know what you are doing.
I talk to women's health pelvic floor physio at Auckland Urogynaecology, Jill Wood and she advises anyone with even a small leakage problem to come and be assessed by a specialist physio. Get a referral from your GP. And yes, this will involve a THOROUGH internal examination. The upside is, you know your own individual situation and then you are given a specific programme of exercises to help strengthen the appropriate muscles.
Carol argues that for 11 out of 12 women they do nothing about their problem and wild horses wouldn't make them have an internal exam. The NatraTone product, available at Radius pharmacies and online, is designed for them. I don't really like to waste energy on doing exercises in the wrong area so I'm going to go and see Jill and see if there's anything specific I should be doing. If not, I'll give NatraTone a whirl.
* For more info click here.
Next week:
A scientist friend with a cold who I have urged to dose herself with vitamin C told me she doesn't take it because it can cause cancer. I am going to see what research I can find on high dose vitamin C. It has been keeping me well this winter, I'd be sorry to give it up.