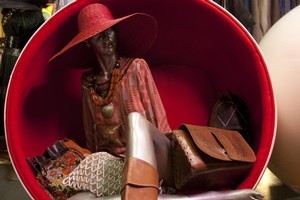 Whether it's old books, clothing or furniture you're after, it's a rare vintage enthusiast who'll leave these four spots empty-handed (or seriously tempted, at the very least) High-end vintage at Tango.
1. Tango
55 High St, Auckland City, ph (09) 300 7165, open Mon-Thurs 10am-6pm, Sun 11am-4pm.
If vintage pieces from high-end designers are your thing, this is the place for you. Filled to the brim with elegant and well-made wears from Chanel, Christian Dior, Yves St Laurent and Gaultier (just to name a few), it's not cheap, but it is style.
2. Paperbag Princess
151 K Rd, Auckland City, ph (09) 307 3591, open Thurs-Fri 9.30am-5.45pm, Sat 10am -4.45pm, Sun 12-4.45pm.
At the lower end of the budget is Paperbag Princess, where nothing costs more than $20. It might take longer to find a piece that makes you swoon, but the shop's big enough to offer a good chance of finding it.
3. Rare Books
6 High St, Auckland City, ph (09) 379 0379, open Tues and Thurs 9.30am-2pm.
You'll need to dart in during lunchtime or on your day off, but it's worth it. This is Auckland's oldest established dealer in fine and early books and maps, engravings, early photographs, ephemera, postcards and autograph letters.
4. Lord Ponsonby Antiques
84/86 Ponsonby Rd, Ponsonby, ph (09) 376 6463, Mon-Sat 10am-5pm, Sun 11am-4pm.
A true Ponsonby Rd landmark and almost an antique in itself, Lord Ponsonby specialises in early New Zealand furniture, imported country furniture, vintage wristwatches, antique pocket watches and other delightful bits and bobs.