Be wary of extra-strong booze or wear the consequences, says Don Kavanagh.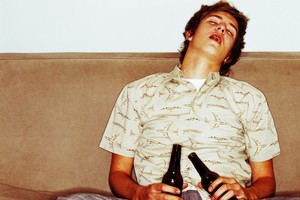 Strong drink is a mocker, we are told, but some drinks are crueller than others.
I hesitate to raise the question of alcoholic strength in drinks, but I feel I have to, having overheard two outright lies recently.
The first was when two men were debating the relative merits of their chosen beers. One was 4 per cent alcohol, the other 5 per cent. One man was encouraging the other to drink his brand as it was "only one per cent stronger".
Clearly he didn't do too well in his maths exams at school because the 5 per cent beer was exactly 25 per cent stronger than the other one. That's quite a difference, even though it looks small. Over the space of five drinks, that adds up to a lot more alcohol.
The other ridiculous statement I heard was about the near-legendary absinthe and its "psychoactive" effect. The enduring myth persists that the presence of thujone, a ketone that can produce psychedelic effects in certain quantities, makes absinthe as much a drug as a drink.
Thujone is present in absinthe, but in such small doses as to be utterly harmless. The legends that grow about it can be put down to the alcoholic strength of absinthe, which reaches as high as 85 per cent.
A few glasses of that will make even the strongest constitutions see pink elephants and green pixies.
Alcohol is both the blessing and curse of drinking. Its restful, relaxing effects are well-known, as are the detrimental effects of over-indulgence.
But the odd thing is that the stronger the drink, the less likely it is to actually taste nice. There are exceptions, of course. I have had some sublime cask-strength whiskies, which are up to 63 per cent alcohol, but then I've also had some hideous beers at 9 per cent.
It's all about balance.
I drank the infamous Uncle Arthur's Famous Falling Over Water, a beer of sorts brewed in Bristol in England. It was almost 18 per cent alcohol and although it was an interesting beer, it wasn't the sort of thing you'd order two of, especially as drinking a pint of it was like drinking a pint of port.
I've also had an Austrian Rum, called Stroh, which was 85 per cent alcohol and could burn a hole in a copper pot. I put a capful of the stuff into a pint of Coke and couldn't taste the Coke.
More is not always better and it's healthy to remember that.
And it's also healthy to remember that the pursuit of power for its own ends has invariably led to tragedy, in whatever sphere.
* Don Kavanagh has been involved in the hospitality trade for more than 25 years and is the editor of Hospitality magazine.