Find more restaurant reviews with our Google map
Address: 93 Great South Road
Phone: (09) 522 2233
Website: degrand.co.nz
Cuisine: Thai
Rating: 8/10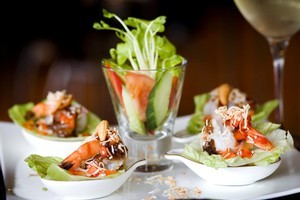 First up, I want to say ignore the name of this restaurant and the style of the building that houses it, both of which seem at odds with how authentic it turned out to be.
When I first arrived at De Grand Thai Restaurant I was sure I had the wrong place. The friend had said "meet you at the great Thai place at the Market Rd intersection of Great South Rd" but, when confronted with what looked more like a gastro pub and called De Grand, my first impression was not of "greatness". However, once inside my doubt gave way to delight. Two dining rooms, both elegantly and relatively formally set out, a beautiful gold leaf chandelier, walls adorned with symbols of the Thai alphabet (okay, so maybe these are a bit tacky) and staff in traditional dress - it all added up to a great second impression.
The extraordinary nuances and flavours of Thai cuisine first captured my taste buds during a three month trip spent travelling through that magical country in my early twenties.
I have since returned a number of times, to voraciously eat my way from one region to the next, as it is food that is so fresh and full of life that I never tire of it. Zing goes the flavour of lime, pow goes the birdseye chilli, while the more gentle flavours of kaffir leaf and lemongrass seem to add a sublime perfume to it all.
Unfortunately, when you're so in love with a country and its food, back home the local renditions can fall short. Not so with De Grand. I have only one word to describe their efforts - grand. And here's why:
Fresh spring rolls were packed full of plump prawns and the dipping sauce, a house-made sweet chilli concoction using fresh carrot juice and "about nine other ingredients", resembled a store-bought variety not one bit.
Our other starter - mieng prawns - was equally as impressive. Served in little lettuce cups, prawns with a tamarind and ginger sauce assaulted our taste buds with the perfect balance of sourness, heat, sweetness and salt, and all with the underlying muskiness of shrimp paste. A taste explosion.
An aspect of Thai food that adds to its appeal for me is that taste and texture are equally important and no dish demonstrated this better than De Grand's yum pla fish salad. As colourful as a kid's toy box, it was packed full of flavour with crispy fish fillets, bright red chilli and capsicum, shallots and handfuls of fresh herbs. The rough texture of roasted ground rice and a sprinkling of cashew nuts added extra crunch and a dressing of wonderful salty fish sauce and citrusy overtones completed the story. When food is as fresh as this, the flavours simply dance around the palate and I wasn't the only one jumping for joy.
The tom yum soup my friend was slurping her way through was magical. Laced with lime juice, packed full of firm-to-the-bite mushrooms, plenty of chicken and again the liberal, and essential, garnish of loads of fresh Thai herbs, made this another dream dish.
Our charming young waiter, hailing from Bangkok, was very patient with us and our incessant questioning of ingredients. In halting English, he admitted that he was new but he did know how to say "just one moment" before dashing off to the bustling kitchen and returning with his new-found knowledge and answers to our questions. We much appreciated his helpfulness.
To ensure lunch the following day, I'd ordered the roasted duck curry in addition to our other mains. Succulent roasted duck sank into a not-too-rich red curry with a base of coconut milk and joined by grapes, fresh pineapple and vegetables (not the frozen variety either). None of it made it to the next day.
There are plenty of items on the menu at De Grand that drift away from their origins (prawns wrapped in bacon, lamb cutlets and the like), as well as some dishes that go beyond the borders of Thailand (penang curry), but despite this, the experience feels authentic and elegant in the graceful way that I always associate with being in Thailand.
Heck, even a visit mid-meal to the toilets was pleasant, what with the tea-light candles and oil burners exuding the fresh scent of lemongrass.
I'm happy to report how wrong my first impressions were of De Grand Thai Restaurant. There's a vibrancy and faithfulness to the enchanting food of Thailand in the flavours being produced from this kitchen and I'm happy to have made the discovery so close to home.
From the menu: fresh spring rolls $12.50, mieng prawn $12.50, tom yum chicken $20, yum pla $24.50, roast duck curry $23.50, sticky rice & mango $12.50.
Drinks: Fully licensed.