Jewellery is Angela Daniel's business and also plays a part in her personal life.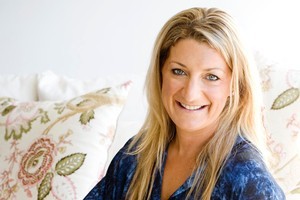 Just like actress Elizabeth Taylor, Auckland-based jeweller and gemologist Angela Daniel has a love affair with jewels and all things that sparkle. Since opening her first namesake store in 2006, Daniel now has four pretty boutiques in Auckland offering a range of contemporary jewellery with a sense of luxury and fun; jewellery that women want to buy for themselves. Daniel's own designs sit alongside designer brands including Karen Walker, Naveya & Sloane, Thomas Sabo and Guess. The jewellery obsessive talks us through her favourite things, from Taylor's love affair to ladylike Crown Lynn.
10 FAVOURITE THINGS
1. Louis Vuitton "Never Full" handbag
My husband bought me this bag from Macy's after I ran the New York Marathon a few years ago. It's the most practical bag ever, but contrary to the name I still manage to load it up pretty well.
2. Royal Albert tea set
Gorgeous pink china to play ladies with. I love old tableware and ceramics - my Crown Lynn collection is growing and now includes the print titled Crowning Glory, by artist Anna Church.
3. Sussex St painting
My grandmother was a gifted artist and possibly where I got my love of art. This painting is particularly special as I have lived close by for the past few years.
4. My diamond studs
Although I have access to some fabulous pairs of earrings in my stores, I wear these every day. They were a treat to myself six years ago, so the price per wear goes down each time I put them on.
5. Langs Beach
We have a family bach at Langs and I've been going there my whole life. Every time I drive into Langs it feels like a weight is lifted off my shoulders. I love the huge pohutukawas, beautiful white sand and the memories we make every time we visit.
6. My Love Affair with Jewellery
By the late, great, Elizabeth Taylor. My Dad gave me this book when I starting managing my first store and wrote in it "maybe you will have some pieces like this one day". I'm still waiting to get my hands on the Krupp diamond, her most famous piece, but the book takes pride of place at home.
7. 80s record collection
Kept safely at Langs and only brought out after a few drinks on the deck. Although the LP player is no longer in use, this collection is still an inspiration for all of our parties. Lionel Richie, Kim Carnes, The Boss, Meatloaf ... guaranteed to bring the house down.
8. Nana
Ninety this year and still the most glamorous and sharpest woman I know. Her stories are still captivating and style tips ingenious - such as using an eyebrow pencil to draw a line up the back of your leg to replicate stockings before heading out to the dances with the American soldiers during the war.
9. Mince
Any way, it's the world's best comfort food. Lasagne, nachos, burgers, Georgie Pie, chilli. Is there anything this stuff can't do?
10. Molly and Indy
We can't get a photo of our dog and cat together as they don't love each other as much as I love them. After a long day nothing makes me happier than being welcomed home to the chaos of our animal house.