It's 2011's hottest shade for faces, fashion and furnishings. But in a post-feminist world, can we make our peace with puce?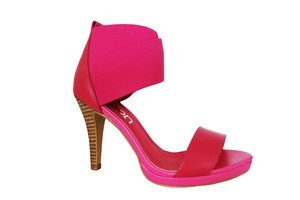 Pink is no longer simply a colour. It has become an ideological battleground for feminist and post-feminist thought. On the one hand, post-feminism tells us to forget the politics and enjoy the colour, because it's having a moment in the sun. On the other hand, feminist thinkers are warning us to beware the pernicious use of the colour in conditioning little girls into submission. Who is right?
It all started in the autumn of 2010, when various fashion designers decided to make pink a bit of a leitmotif on the spring/summer 2011 catwalks. At one of the most critically acclaimed shows, Jil Sander designer Raf Simons liberally used a shade of bubblegum to light up his collection. What's more, pink also appeared at key shows such as Prada, Lanvin, Marc Jacobs and Christopher Kane, mostly in Schiaparelli, hot and neon incarnations.
As if that wasn't enough, at the end of 2010 along came rapper Nicky Minaj with her début album, Pink Friday, often clad in head-to-toe pink and sporting a candy pink wig, as if to compound the trendy status of the hue. Her limited edition M.A.C. pink lipstick became a cult hit, selling out and fetching up to £40 ($79) on eBay, four times theoriginal price.
Then, at the beginning of 2011, Leatrice Eiseman, the executive director of the Pantone Colour Institute, declared honeysuckle - a pinkish red - to be the shade of the forthcoming year. "Flirtatious honeysuckle is a feel-good hue that brings a festive sense of playfulness to this season's palette," says Eiseman. "This vibrant pinkish-red for both apparel and cosmetics makes consumers feel alive and is a perfect post-winter pick-me-up."
Pantone, a world authority on colour, see their shocking pink delivering a shot of optimism to tired winter eyes. Retailers, however, have a more prosaic take on the subject. Pink equals dollar signs. Helen Spencer, a chain store lingerie-buyer, says, "Pink continues to sell well, with pink and black silk lingerie sets seeing the biggest uplift week on week." And girlswear buyer, Lindsay Dickson says, "So far, half-year to date, 25 per cent of our sales are of pink products and this week alone, 10 out of our 20 best sellers were pink - proving the colour continues to soar up the popularity stakes."
So, fashion people love pink, rappers love pink, colour experts love pink and so do the shops.
Post-feminism says forget the dogma, just take pleasure in the perkiness of the colour. After all, it's just a shade, it doesn't intrinsically signify anything. Or does it?
"Pink makes you look chic but not in a hard way," says fashion designer Peter Jensen, who used the colour for several outfits in his spring/summer collection. "We used it because we wanted to make something that had a 70s feel, something that would look young but at the same time sexy without being vulgar. I would also use words like playful and happiness to describe the shade we used."
Pink was also popular with beauty tastemakers, too, with shocking pink lips a feature on the Jil Sander, Diane Von Furstenberg and Marc Jacobs runways. Neil Young, senior makeup artist at M.A.C, attributes the trend to celebrities. "Lady Gaga has dramatically influenced the way women wear colour with her Pepto-Bismol pink lips. Matt is the most contemporary way to wear pink, as the finish feels more expensive."
But it's not roses all the way. For some of us, pink has come to represent a more spurious saccharine version of femininity, rather than the chic flirtation the fashion designers attest.
Just think of Katie Price head-to-toe in bubblegum pink and knee-socks; you think of a woman disporting herself rather tragically like a little girl. A spoilt little girl with orange fake tan at that. Pink, for grown women and little girls alike, has some rather sinister undertones.
Abi Moore, the co-founder of the protest organisation Pink Stinks, says, "We started as a reaction to the rampant stereotyping increasingly evident in products and clothing marketed towards children, and the use of the colour pink as a signpost for girls as to what is 'for them'. We think that this pink phase is the beginning of a journey, instilling seemingly innocent ideas of princesses, beauty, fairy tales and sparkles above all else. It limits girls in their early development to conform, be 'girly', and look pretty, preparing them for a life of body image anxiety and insecurity."
So, according to the feminists, pink isn't just a colour, it represents submission, gender stereotyping and prettification. It is preparing little girls for a life full of kowtowing and compromise.
"We seem to assume that young girls are programmed to like pink - and dolls, and fairies, and ballet, and so on - while boys are programmed in the opposite direction," says feminist writer Natasha Walter.
As pink has its moment in the fashion sun this season, what you have to decide is: is it an innocent, post-feminist, fun colour to wear or is it, as the feminists say, a signifier of a darker conditioning, ultimately preventing us from creating gender equality? This season, at least, the shops are going to be full of it.
But will you conform, or will you protest?
Think pink. Where do fashion insiders stand on the pink issue?
Karen Walker:
"Pink is, at the moment, the most subversive colour you can use because prettiness has been so unhip for so long."
Rachel Easting, Twenty-seven Names:
"I definitely agree that the colour pink has a multitude of sinister associations - as the blanket colour of the girls' section in department stores I find it really off-putting, especially bubblegum baby pink. Luckily, I was brought up by a feminist mother who cut my hair short and only dressed me in bright primary colours; red, blue, yellow and other exciting tones from the 80s. To have avoided a childhood full of pink was quite a challenge, but one I'm really grateful for. I used bright Schiaparelli pink in my work at art school, exactly for the reason that it is so entrenched with 'female' connotations. In saying that, we've used a pink floral in our summer collection - but we've approached it from a different angle; referencing the 70s peace protests and 90s tongue-in-cheek grunge. I think it can be worn in fashion, but I think it's important to be aware of the signals that the colour can send."
Emily Miller-Sharma, Madame Hawke:
"I strongly remember a turning point in the way I perceived the world during a fashion history paper at university, where I read that before World War I, it was not uncommon for boys to wear pink, which the promotional literature of the time called a stronger, more decided colour. Girls wore blue which was understood to be delicate and 'dainty'. It was such a simple example of how arbitrary and yet so powerful our social contructs can be. Another extremely vivid memory is my teacher in standard four, saying that pink and red were clashing colours and not ever to be used together - which I was so disappointed about because I had just watched Grease for the first time and thought that Rizzo's outfit in the final scene was so awesome - but as I was of the attitude that my teacher was 'always right' I would never be able to wear it."
Kirsha Whitcher, Salasai:
"I've always felt like pink signifies gender, however lately I've developed a new opinion - the beautiful variations of pink and how it could work in the land of unisex, genderless design. Pink is a statement colour; it personifies the wearer and empowers a right to be feminine, whether we like it or not."
James Dobson, Jimmy D:
"As a designer I guess I am a little ambivalent about pink as a fashion colour - I don't have a personal loathing for it, but it's just a colour I can pretty confidently say I wouldn't use in a collection. It's sort of the anti-black, and I think it's pretty clear which side of the fence I'm on. In terms of buying for our store Children of Vision, I'm definitely not averse to it, but I prefer it in it's stronger shades - designers like Bernhard Willhelm, Eley Kishimoto and Peter Jensen are celebrated for their use of colour and print, and sometimes pink does pop up in their collections. I'm more likely to go for it when it's verging on a magenta-ry shade - you can't deny that it's an uplifting colour, and as much as I'm drawn to darker palettes it's great to have bursts of colour in the store, even if I wouldn't wear them or use them in my own collections."
Luella Bartley, in Luella's Guide to English Style:
"In a drunken semi-existential discussion with Paul Simonon a few years back, he told me that The Clash used pink equipment for one of their tours. 'Pink is the only true rock and roll colour,' he said. It validated my uncertain, but adament, position on the importance of pink (besides being one letter away from punk) and why it drives such fierce debate. Pink, like every other aspect of British fashion, is a tribal marking; it is an indicator of who you are, where you went to school, or how far you can take irony."
- INDEPENDENT