These runway ideas are set to inspire street style.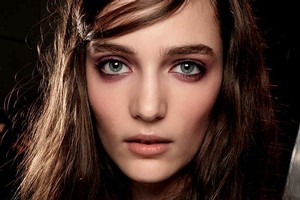 If you're bothered about beauty, you need to toughen up. The latest looks have an individual edge that is less about pretty and more about powerful.
To help navigate modern makeup we have tips from M.A.C, the fashion-forward cosmetic company responsible for backstage wizardry at more than 300 of the northern hemisphere's biggest fashion shows.
Each season it distils the work of its international makeup artists into key trends, with the latest forecast drawn from its autumn-winter 2011 shows.
Expect to see some of these looks interpreted at New Zealand Fashion Week this month, where M.A.C will be doing the makeup at the bulk of the shows. Local artists, led by Amber D, will be joined by a senior artist from America, Fatima Thomas, and others from the Asia-Pacific region.
Amber D heads to the northern spring-summer shows straight after the Auckland event.
As well as drawing inspiration from the trends forecast, which happily meshes with the winter designs to be shown here, she will be looking ahead to anticipate that next show round.
A constant between seasons is how makeup has become more about drama than disguise; creating a mood rather than covering up.
"It's like when you put your dress on and you feel different. If you are in your slippers you feel one way, if you're in that dress, it's oh, Okay now," says Luc Bouchard, M.A.C senior artist from New York.
He spoke about the trends at M.A.C's Asia-Pacific regional presentation and told Viva afterwards that nothing was more passe than thick foundation.
"I started in the 80s when you had to warm foundation and then you applied it and thought: she better not smile too much."
Thanks to refined technology and optical diffusers: "You still have your coverage but it has a transparency to it that looks like skin not a mask."
Skin priming before foundation application was also a relatively recent innovation which created a canvas for sheer makeup that stayed put, he said. "That's the way to do makeup now. Even when it's really natural [looking], priming is really important." So are transparent finishing powders.
Here's a rundown on the key looks, with comments from some of the makeup artists who created them.
Mod-ernist
The most influential and easiest look of the season plays on evisited, with a 60s aesthetic made modern.
For the young at heart, this is about lashes and luminous skin combining for a minimalist effect that still has impact.
Gloss on lids, lips and cheeks gives extra life to a flawless skin with blush left behind.
Brows are boldly natural, lashes have a feathery look, with false ones adding a feline flutter.
Val Garland described the look seen at Moschino Cheap and Chic as: "What started off with the idea of a 60s Brigitte Bardot was brought back to a young modern Lolita."
Mod-ernist makeup was seen at Alberta Ferreti, Chloe, Salvatore Ferragamo, Max Mara, Paul & Joe, Mario Schwab, Giambattista Valli, Jaeger London, Donna Karan New York, Elie Saab and more.
Key products include: Black Haute and Naughty Lash, Smolder Eye Kohl, Peachstock Lipstick, Care Blend Essential Oils and Gloss Texture.
Tough love
Androgynous, bare-faced, but with an eyeful of hard-edged, pared-back powerful glamour. Brows are back, lashes relatively unadorned, cheekbones hollowed and lips near nude, or put the emphasis around an elongated, shadowed eye with a strong, straighter brow. Described by Lucia Peroni at Missoni as a look for "kick-ass cool girls" and by Tom Pecheux as playing on the masculine-feminine.
This look was seen at Proenza Schouler, Alexander Wang, DSquared2, Prabal Gurung, Gareth Pugh, Preen, Richard Nicoll, Acne, Moschino and more.
Key products: Lingering Brow Pencil, Mineralize Eye Shadow in Blue Sheen, Black Penultimate Liquid Liner, Clear Lipglass, Studio Sculpt Foundation and Invisible Loose Powder.
Disco-tech
Make like a mannequin from the late 70s-early 80s in this decadent overdose of colour that sees both the lips and eyes balanced in similar surreal shades, underpinned by futuristic flawless skin. High impact achieved in a way Terry Barber describes as "seamless rather than heavy" - think "done, but very well done". Or as Luc Bouchard put it, this is a look to do when you have time to have fun.
"Build up the colour with brushes, you can always add more." It's about blending: "Even if there's a strong colour, the edge is not sharp." Try purple on the eyelid and pink in the crease, or a peacock blend of blue and green, with an equally vivid lip.
Seen at Zac Posen, Diane von Furstenberg, Altuzarra, Jean Pierre Braganza, Vivienne Westwood Red Label and more.
Key products include: Pro Hi-Def Cyan Chromographic Pencil, Cherry Lip Pencil, Pro Fuchsia Lipmix, Pro Gold Metal Pigment.
Amber-gris
We're not talking about the stuff whales cough up which perfumers used to prize as an earthy-smelling fixative (now replaced by synthetic substances), but a colour range drawn from skin tones. Amber to grey and in between shades, verging from russet to rose, from sandy to khaki, lavender to gold, but all muted.
"They enhance rather than dominate the face, conveying mood more than a definitive feel of makeup," says Lyne Desnoyers.
Seen at Balmain, Rodarte, Roland Mouret, Kenzo, Marni, Mary Katrantzou, Issac Mizrahi, Michael Van Der Ham, Les Copains and more.
The idea is modern monochrome, rather than backwoods beauty, with lips and eyes picked out in similar shades. Go for soft-edged impressionistic blending, try fingers for a finish that is a little smudgy.
Key products include: Pearl Cream Colour Base, Soba Eye Shadow, Indigo Eye Pencil, Cork Lip pencil and Brown Lipmix.