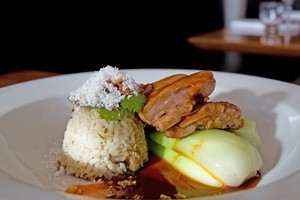 One of our most recent forays for Canvas was to one of the best waterfront settings in the central city. This time we found ourselves at one of the most suburban, by a roundabout at a small shopping centre. Mind you, it was Remuera. It's not in every suburb you would be parked next to a vast new Mercedes.
And not many suburban restaurants would match The Maple Room for quality. The premises are unpretentious with clean and simple lines in the décor and furnishings, but not lacking comfort or space.
The customers sitting at the bar chatting to the staff were radiating the relaxed air of regulars but we trippers were greeted and seated efficiently and the drinks service was immediate, giving us something to savour while we looked over the menu. This was promising and varied, offering the now ubiquitous little plates, a changing selection of four tapas and the more conventional line-up of entrée, main and desserts.
It was not a night that brought thoughts of sunny Spain, so we went for the orthodox, but here, too, there was more than usual imagination.
I began with chicken livers, crusted with parmesan and herbs but moist and tender inside, served on onion and figs and providing a perfect complement to the rich liver.
Our other first course was an old favourite from the little plate listings, grilled haloumi, given a little dressing of oregano and olive oil, which I'm not sure it needed.
I continued my assault on our little feathered friends with my main course, an original dish of sticky soy chicken. This was delivered as thigh pieces, much better than breast here, tangy with soy but not overwhelmed and presented with coconut crumbs, coriander and wilted bok choy. The carbohydrate fix came from rice flavoured with shitake mushroom and the whole ensemble worked well.
Our other main was tender duck with a low key quince and ginger jus and a positively delicious pork sausage. This was greeted with enthusiasm by someone who has a high standard of comparison when it comes to duck.
The portions are reasonable without being gut-stuffing, so desserts were in order. Again there were little plate options which, being greedy, we ignored. My lime creme brulee was a gem of its type, creamy but with a real fruit tang. Our other order, a strawberry and raspberry panacotta was judged a little solid but still good and sweetly served with a couple of shortbread biscuits.
They provided a worthy grace note to a meal and an evening we had thoroughly enjoyed.
The service was excellent from the very start, brisk but not rushed, and when I sought some advice on their excellent wine list, the man who knew was promptly summonsed. It always makes one feel smug when the recommendation is what you had had in mind but I would have been more than happy to trust his judgment as The Maple Room is clearly run by people who know their business.
Rating out of 10
Food: 8
Service: 8
Value: 8
Ambience: 7
Our meal: $188.50 for two first courses, two mains, two desserts and six glasses of wine.
Wine list: The Maple Room also operates as a bar so it has a good wine list. The Nevis Bluff Central Otago pinot gris was new to me and a standout, while our old favourites Clos Marguerite sauvignon blanc and pinot noir were their usual trustworthy selves. The Spy Valley gewurtz went well with the chicken and the Spanish muscat was a little different from the usual sticky.
Verdict: A stylish neighbourhood haunt which offers more than usual variety and is well worth making the trip if you are not fortunate enough to live in Remuera.