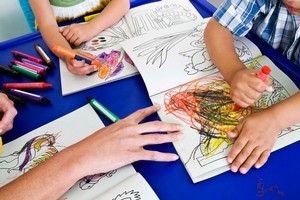 Many women are being priced out of the jobs market because of the soaring cost of childcare, as new figures show female unemployment in Britain exceeding one million, a report warns today.
The combination of cuts to benefits for families and the impact public sector job losses are having on women's employment is causing many mothers to choose to look after their children rather than seek paid work, the centre-left think tank IPPR suggests.
Its analysis of official statistics shows that, while unemployment overall has fallen in the past year, among women it has risen by 42,000.
The findings, which suggest that the UK is about to see a new generation of stay-at-home mothers, come at a time when ministers are trying to encourage more people to work, in an attempt to slash the welfare bill.
While many mothers who lose their jobs have little choice about being unemployed, there is growing evidence that some simply decide that it is more cost-effective to stay at home than to pay for childcare, the report says.
"Women are increasingly joining the ranks of the long-term unemployed, and the prospects for female employment are likely to remain gloomy for some time to come," said Dalia Ben-Galim, associate director of the IPPR.
"Cuts to childcare tax credits mean that for some women, work no longer pays and they are better off staying at home."
Nick Clegg will tomorrow attempt to win back female support for the coalition with a speech setting out what the Government is doing about childcare and raising the income tax threshold.
At the same time, the Secretary of State for Work and Pensions, Iain Duncan Smith, is planning to make it more cost-effective for women to work part-time than to stay at home.
Some 268,000 women have been unemployed for more than a year, Office for National Statistics figures show.
The UK's jobless total is 2.45 million, 20,000 fewer than last year. But the number of women out of work has risen to 1,026,000.
More than 40 per cent of redundancies in the last quarter were among women, up from just over 30 per cent.
The IPPR analysis shows that 143,000 job losses in the public sector, where more women than men are employed, are disproportionately affecting women. By contrast, 520,000 new jobs were created in the private sector last year.
According to the Organisation for Economic Co-operation and Development, the UK has some of the most expensive childcare in the world.
The average cost is £97 (NZ$190) a week for 25 hours, rising to an average of £115 a week in London and the south-east.
Before April this year, families with household incomes below £30,000 could reclaim 80 per cent of the cost of childcare, up to a maximum of £175 per week for one child and £300 for two or more.
As ministers attempt to cut welfare costs, families can now reclaim only 70 per cent, affecting nearly half a million families.
The Resolution Foundation think tank, which campaigns for the so-called "squeezed middle", says that the change has led to the average family losing £436 a year, with some losing as much as £1300.
The Government is planning to scrap existing benefits and replace them with a Universal Credit, which is expected to leave many families worse off.
Anand Shukla, the chief executive of Daycare Trust, said: "Parents in Britain contribute more towards childcare than any other OECD country, which results in many women being priced out of the job market, and having to give up careers they are committed to, simply because it costs them money to work. This situation will only get worse with the reduction in the amount of childcare costs covered through working tax credits in April this year, which effectively added an extra £546 to the annual childcare bill for many families."
Labour's deputy leader, Harriet Harman, said: "Women's employment is key to the household budget. It is important in lone-parent households as a role for their children to see the world of work, and it is important to the economy.
"The cost of childcare going up, while at the same time their pay does not go up, becomes economically unviable. The price that will be paid is paid by the wider economy, but also by families."
- INDEPENDENT