Rich in taste and colour, salmon is a unique fish. Grant Allen shows you how to use it.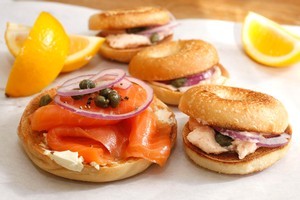 Salmon speaks of luxury - its colour is unique among fish, its associations are high end and it tastes rich.
Luckily for us, we have access to this beautiful fish at a price that is not prohibitive and of a quality that is world class.
Salmon is value for money in the sense that there is little waste, it has high food value and it takes little time to cook. Thank you New Zealand salmon farmers.
Lox and bagels
I also associate salmon (smoked in particular) with New York delis. My friend Stephen left to spend some time there last week. His Jewish heritage makes him my cultural consultant on all things kosher. I asked him to explain a classic deli offer - lox and bagels. Lox is the Yiddish word for salmon and the traditional way of eating this would be with a grilled (toasted) half bagel spread with cream cheese, which you top with thin slices of smoked salmon, a few red onion rings, some capers and a good squeeze of lemon .
You might also order "Bagel and Schmear" in which case the smoked salmon will have been blended with the cream cheese, spread on the grilled bagel base topped with the onion and capers, squeezed with lemon and have the top half of the bagel popped on it.
Both these are easy to replicate and make a very nice late breakfast at the weekend while you read your papers.
To take these later into the day, use mini bagels to serve with a drink before dinner and go straight onto your main course.
Salmon dip or spread
Beetroot gravlax salmon
* Grant Allen has been a professional cook for 30 years. He works as a caterer in Auckland. Grant's facebook page can be found here.