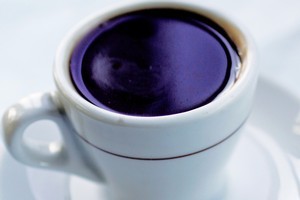 1. Bambina
268 Ponsonby Rd, Ponsonby. Phone 360 4000.
Three words: real chocolate buttons. It's comfort in a cup. There's also a lovely breakfast menu and a selection of counter treats.
2. Chocolate Earth
46 Clyde Road, Browns Bay. Phone 476 9996 .
Try a hot chocolate made with their "melted chocolate shot". Well-loved for their specialty chocolate cakes, too. Birthdays are the perfect excuse.
3. Chocolate Boutique Cafe
323 Parnell Road, Parnell. Phone 377 8550.
Here you'll find a cosy and atmospheric world of chocolate, including novel varieties of the drinkable kind: double chocolate, mexican spice, or chilli. A great place to pick up a chocolatey gift, too.
4. Il Buco
113 Ponsonby Road, Ponsonby. Phone 360 4414.
Head along to this little pocket of a cafe for thick hot chocolate, (almost) like they make in Italy. Perfect for a workday drive-by, they also have good pizza by the slice.
5. Devonport Chocolates
17 Wynyard St, Devonport. Phone 445 6001.
If you'd rather make hot chocolate at home but the supermarket selection's just not cutting it, grab a DIY packet from Devonport Chocolates. Available in Spice, Belgian and Fair Trade. It's a rare person who isn't partial to a liquid chocolate, especially when it's freezing out.