The king of seafood, Rick Stein, heads to Spain to seek out the best of regional delicacies, with his own spin.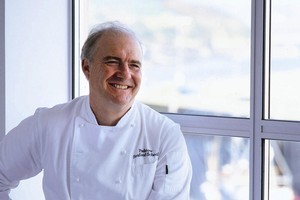 According to Rick Stein, your formative experiences of food are the culinary memories that prove to be the strongest.
Inspired by his family's numerous Cornish holidays, the Oxford-born, 64-year-old moved to the then-tiny fishing village of Padstow, where he opened his first restaurant in 1974. Now, after exploring Asian cooking in 2009's Far Eastern Odyssey, he has turned his attention to Spain, which he first visited in the early 1950s.
Only eight years old, he bravely ordered squid with black ink sauce, leaving him with an indelible impression of its distinctive blackness, slightly sweet flavour and iodine smell.
"I always think that in my cooking I'm trying to recreate in some curious way the dishes I remember as a child," says Stein, who spends around half the year living in the New South Wales town of Mollymook.
"That's why I keep them quite simple because they just have a tremendous nostalgia for me."
Stein previously journeyed to Catalonia and Majorca in 2007's Mediterranean Escapes, which also encompassed Italy, Turkey, France and North Africa.
Inspired partly by the rise of world-class restaurants like El Bulli and Arzak, he decided that the southern European nation's diverse, vibrant cuisine was worthy of a book and television show of its own.
"With those Michelin-star sort of places, everything is neatly put on a plate with a smear of some kind of puree here or some kind of foam there," he laughs.
"But I'm more interested in fairly simple home cooking. When we were filming the Mediterranean series in Spain, I just really loved the food there. I thought that we could do the whole of Spain and find a lot more interesting dishes, which tend to have a sort of ruggedness that really appeals to people. You go to somewhere like Galacia and they serve up freshly boiled spider-crab in salt water and you get nothing but the spider-crab. Jolly good!"
Divided into various regions such as Andalusia, Valencia and Extremadura, the main aspect that makes the likes of mussels in tomato vinaigrette and chicken and rabbit paella stand out is their deep colours and fresh tastes.
"A lot of Spanish dishes are like the Spanish flag, with lots of reds and yellows," he says. "Everything has just got a lot of saffron, red peppers, tomatoes and pimenton in it," he adds, referring to the ever-present smoky paprika.
Stein also believes that everyday Spanish meals have much in common with their British - and therefore New Zealand - equivalents. If you take out the spicy sausage, the boiled bacon with chorizo, chickpeas, potatoes and cabbage is not too different to Britain's pease pudding and ham.
"With that particular dish, people have said 'how can you eat all that?' as when we filmed it, there was half a pig's head and trotters in it, so we've slightly sanitised it to make it into something that you would want to eat," he recalls wryly, comparing it to a classic British broth.
"It's very much like Welsh cawl. But most Spanish dishes are very simple and survive or fall on the quality of their raw materials, which is very much like British cooking. The reason why it's not well received is because it's often badly cooked or uses bad ingredients. But loads of chefs are now beginning to show that if you use good ingredients, it turns out really well."
Pioneered by New Zealanders like Peter Gordon and Anna Hansen, fusion's clever combination of European and Asian influences owes much to Spain.
"People will borrow a lot of ideas from something like Spanish cooking because it's long-established and I'm thinking particularly of restaurants like Moro, where you've got a mixture of North African and Spanish-type flavouring," he says of the popular London establishment, which specialises in Moorish cuisine.
"They do that particularly well but quite a long time ago a Sydney chef called Luke Mangan opened a restaurant called Moorish. It was in Bondi and I remember thinking 'this is really good'. But it didn't last, probably because at that stage Australia wasn't ready for that particular type of cooking. I bet it would work now, and similarly so in New Zealand. All of these ideas eventually feed through to everybody."
Whether it's in its traditional Spanish guise or the currently trendy small meals format, tapas is growing in popularity in Britain with Kiwi restaurants like Kopapa and the Modern Pantry and even curry houses offering a wide selection of compact, affordable meals.
"One of my favourite restaurants in London is Bocca Di Lupo, which is Italian tapas," says Stein.
"It's learnt that idea of going into a bar and having lots of small portions from the Spanish. They do something similar in Turkey and meze in Greece is similar, although they serve it as a first course rather than lots of little courses that you drink with beer. That style of eating is very popular and the Spanish do it better than everybody else."
Stein quotes an Australian-based Italian chef's recent assertion that Spanish cooking is strictly second division compared to his homeland's apparently superior fare.
"In terms of Mediterranean food, Italian food is sort of king but the form of tapas is something that everybody wants to buy into," he says.
"It's just a question of how you look at food. If you're somebody who likes the El Bulli end of things then you're not really going to like Padron peppers, mussels in their shells or spider-crabs. In its way, it's as satisfying as Italian food, although it's not as consistently good. Partly because Mediterranean Spain is very touristy, so you have to go off the beaten track to find it. When you do, you might not necessarily find it immediately but it'll be better for that, because you've had to work a bit to get there."
Calling his book Rick Stein's Spain, Stein admits that his recipes are not entirely authentic. "The Spanish aren't quite as doctrinaire about it as the Italians and as I'm well known in the UK, I thought that I might as well write a book that's my take on them," he says. "I haven't changed them radically or added extra ingredients but I've tinkered with them a little bit. With some of the Andalucian recipes, I've put in more spice and different spices apart from chilli since with Indian cooking we're used to it. You can get away with putting a bit more in a dish with destroying the balance."
Affable and engaging, I met Stein in Norwich just before he held a lavish dinner with fellow chef Delia Smith. He will host a similar event at Cape Kidnappers in the Bay of Islands later this month, staging a lavish feast that will include several dishes from the new book such as baked scallops with guindilla pepper, chorizo and crisp breadcrumbs, a small stew of mussels, clams, prawns and home salted-cod with potatoes, leeks and aioli and beef rib chop with spicy potatoes and grilled red peppers.
"I asked for a list of what's available and I've adapted the recipes to suit what's going to be around," says Stein, who after exploring most of Europe and Asia hopes to focus next on Australia and New Zealand.
"The whole Maori element is particularly interesting but one of the things I would like to do justice to is the British element in both countries' food," he says. "Generally people just dismiss it, which is ridiculous. I'd start by asking 'what is New Zealand food? What is Australian cuisine? Is it Asian, Italian, Greek, whatever?"'
However, he is wary about highlighting too many Kiwi fish dishes.
"That's something that doesn't interest me as much as it should," he says.
"There's a lot of seafood in New Zealand but it's very hard to get if you're a restaurateur or a member of the public. So you've got this fantastic situation when you go fishing but when we did the stage shows in Auckland and Wellington last year, the quality of the fish wasn't brilliant because you can't buy it - although the Fish Market in Auckland is good. So you can make lots of great lyrical stuff about fishing in New Zealand but trying to use it is harder than you think. What's interesting is that the locals don't seem to understand that. They keep saying 'we've got this great fish' but they all go fishing all the time."
Following on from last year's Food of the Italian Opera, Stein recently ventured into the American Deep South to explore a more contemporary musical/ culinary crossover in another one-off BBC special.
"We like doing these slightly cultural programmes that use food to get in there," he says.
"We went to Mississippi and New Orleans, starting with the premise that I was brought up in the '60s and I can remember what it was like hearing Howlin' Wolf songs like Smokestack Lightning for the first time. It was the same sort of epiphany for me as it was for the Rolling Stones and those others who made something of it. I got to talk to B.B. King and we filmed a few old blues guys playing the blues. We talked a lot about food and enjoyed things like hot tamales and turnip greens. We enthused about the fact that for better or worse, they have a food culture. A lot of it's a bit unhealthy but at least it's there. They were wonderfully enthusiastic about their own grub."
Octopus salad with spring onions and peppers
Dine with Stein
Join Rick Stein for a weekend at the luxury lodge Kauri Cliffs in Northland, when he returns to cook up a storm on Saturday August 27. He will be joined by winemaker Ant Mackenzie from Te Awa Wines in Hawkes Bay. $800 per person includes includes luxury accommodation, degustation dinner with matched wines, full breakfast and choice of either a round of golf or a 50 minute massage per person. Ph (09) 407 0010.
* Rick Stein's Spain ($70: BBC) is distributed in New Zealand by Random House and available now in bookshops.