Find more restaurant reviews with our Google map
Address: 54 Victoria Road
Ph: (09) 445 1392
Website: didas.co.nz
Cuisine: Tapas
Rating: 5/10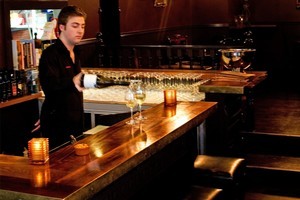 When I think of going out to eat tapas I can't help but conjure up images of the cosy little bars you find throughout Spain where, after being welcomed in and taking a seat at the bar and ordering from the snack menu, you're rewarded with small plates of sensationally simple, but phenomenally tasty, treats to go with your drinks.
Auckland has plenty of eateries offering this Spanish style of eating these days and one such place where the food has always impressed me, on the numerous occasions I have dined there, is Dida's Wine Lounge on Jervois Rd.
When they opened another venue in Devonport last December I made a note to pay them a visit but, oh, how the year has flown and it wasn't until recently that I finally made it across the water to meet a friend for a tapas extravaganza. Or so we hoped.
Dida's Devonport is inviting, with its original leadlight windows, dark wood-panelled interior and soft lighting. Old black and white photos of historic Devonport and portraits of the founding Croatian family members, who established the Glengarry Wines business, of which Dida's is a part, in 1940 adorn the walls so there's a comforting, familial atmosphere.
We had arrived at Dida's before it had begun to fill up and there appeared to be a lack of momentum, warmth and enthusiasm from the staff. However, when we did finally manage to get a hold of a menu my spirits lifted reading through the list of tempting tapas. They have a slightly scaled-down version of the Jervois Rd menu. We ordered seven small plates in total - five savoury and two sweet.
Sadly, we got off to a disappointing start with the prawn and coriander fritters. My memory (from Jervois) was of light, fluffy fritters but these were stodgy and had the unpleasant taste of uncooked flour. Next came a dish that had been woefully overcooked - spicy chorizo cooked in merlot and bay leaf. The wine reduction had been cooked out beyond recognition and it had taken on a cloyingly marmite-like whiff and flavour to it that was impossible to ignore. All spice from the chorizo was well gone and they were dry and tough; we left most of them, but no one asked why when they collected the plates. To follow was a plate of calamari that, once salted, was perfectly passable but not spectacular. The lamb on rosemary skewers with Sardinian salsa were divine and the patatas bravas crispy and spicy, once we'd waded through the aioli.
I'm happy to report that the two sweet options were faultless. The Spanish doughnuts - churros - were a dream. Served piping hot and showered in cinnamon-laced sugar and accompanied by ample rich, and rightfully bitter, chocolate sauce for dipping. Our other sweet option was equally fantastic. Soft goat's cheese served with honeycomb, figs and a lavender toast was a perfect marriage of flavour and textures. The lavender, usually a strong ingredient to contend with, lent itself nicely to the tang of the goat's cheese.
Other points in Dida's favour were their extensive wine list and, as I've already mentioned, the ambience, but with the number of dishes that fell flat, when they needn't have, I was confused. Was my memory of the same dishes from the Jervois Rd kitchen, playing tricks on me? Had we visited the Devonport branch before the chef started work for the day?
To check if my eating compass needed recalibrating I paid a visit to Jervois Rd Dida's the next day and ordered the same dishes that had so disappointed in Devonport. Each and every one delighted me; light and perfectly cooked prawn fritters sprang back to the touch and were packed full of juicy prawns, the chorizo were tender and buzzing with spiciness, the merlot sauce still had plenty of life in it.
The service was sprightly and engaged too. So it appears not all Didas are created equal - Devonport could do with paying more attention to the detail to avoid becoming the black sheep of the family.
From the menu: Prawn & coriander fritters $8.50, calamare $8, chorizo in merlot $9, patatas bravas $6, brocheta de cordero (lamb & rosemary skewers) $9, queso de cabra blando (soft goats cheese with honeycomb, fig and lavender toast) $10.50, churros con chocolate $5.50.
Drinks: Fully licensed.