It's the colour that is so hot right now, with celebrities jumping on the red bandwagon. Stylist Caterina DiBiase shares her expertise.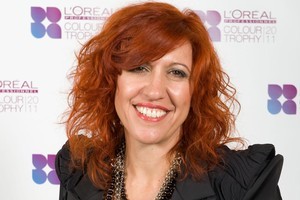 It's no surprise that with her bright copper top, Caterina DiBiase is talking up red as the colour of the season and summer to come.
"At the moment it's red, red, red," says the two-time Australian Hairdresser of the Year, during a trip to talk trends with New Zealand stylists. Asked if red is really going to appeal widely, she says: "Can everyone wear a red lipstick? It's a matter of finding the right tone of red, it's the pigment in it that suits your skin tone."
Or, in other words, yes, you can do it, but don't just slap on any old red colour from a box, get professional help to find the right shade.
DiBiase has been advising hairdressers how to give that advice, by looking at their client's eye and skin tones to identify if they would best suit a coppery red or a more blue-based shade. For those with yellow pale skin a coppery hair base looks really beautiful, she says, but those who are pinky pale are best to go into more blue-toned reds. "It doesn't mean you go plum or violet, it just changes the undertone slightly."
This degree of subtlety takes work and if a client has a dark base, hair needs to be lightened first to get the right red result.
The red of the moment - as worn by singers Adele and Rihanna and Australian model Ruby Rose - has tended to be red-hot, with Florence Welch the queen of copper, but the bluer look is showing up, in common with the reflects figuring in brunettes and cooler pastel undertones for blondes.
DiBiase has been doing training work for L'Oreal on these colour trends and the latest cuts, of which pixie crops are showing strongly. Similar looks are showing up in the trend forecasting of other big hair companies, underlining the importance of fashion and celebrity as drivers for consumer change.
A few months ago DiBiase judged the L'Oreal Colour Trophy in Auckland so she's familiar with what she describes as the "edgy" work of our best stylists, with the winning look an example of where blonde hair is heading, away from the more obvious highlights.
"Colour is strong, but we've got smarter, it's not about stripes and skunks, it's about having lots of colour that you can't see and you can't work out where it starts and finishes, so it melts through.
Pastel is big for blondes as shown by Lady Gaga on her American Vogue cover outing. Shades such as beige pink, strawberry and apricot on a blonde base look amazing, says DiBiase. "Having those colour highlights coming up to summer through a beautiful blonde, you'll just see it in the light." The subtlety is key. "People go 'what is that in your hair'?"
Even those hot reds are not all necessarily solid colour. "They've got highlights in there, or they're darker underneath and a bit lighter on top."
Balayage (sometimes called hair dipping or colour painting) is now more toned down, warmer and glossy. For summer the grown out, rawer more robust look will still figure, but in caramel tones, and with not so obviously dark roots and light ends. Good examples, says DiBiase, include Abbey Lee pre her recent platinum show style and fellow Australian model Lara Bingle's look which has a light base and warm golden tones.
"A great trick for women who want to thicken their hair is having undertones slightly darker; it could be half a shade to a shade lighter, you don't want to look like a Top Deck chocolate bar. It's there to make you hair look thicker and give it a fashion edge.
This can work for brunettes also, playing with shades of chocolate or into the reds.
DiBiase, who is off to India and Taiwan to run more training for L'Oreal, says she learns on the road too. In Asia she has found an impressive line up of techniques to lighten hair, for those seeking popular brown and caramel tones.
Top tips
* To maintain a hot red colour, DiBiase advises gentleness to get six weeks wear. Wash red hair less and always use a colour care shampoo. "But it's obviously not going to have the same intensity, throughout."
* Keep all colours looking fresh by booking in for a hairline T-bar retouch between the full-colour job. This quick touch-up will hide regrowth and greys. For brunettes, a mascara brush can come in handy for emergency cover-ups.
* Use colour-safe shampoo, but also bear in mind a choice to suit your hair type, with frizzy hair particularly benefiting from some curl control. "Now there's products that do both."
* Use powders, thickeners and dry shampoo for quick style fixes. "If I wanted to retexturise my hair because I've been working all day and I'm going out, a bit of powder or thickener through it works a treat."
Runway to reality
A New Zealand stylist who is influencing trends at both ends of the fashion spectrum is Richard Kavanagh, who works the big fashion shows each season and serves as creative director for Rodney Wayne's chain of New Zealand salons.
He's off overseas at the end of the month to New York, Milan and Paris, where he works on around 40 shows, alongside Redken maestro Guido, shaping some of the world's most influential looks. Kavanagh takes inspiration from being at the forefront of fashion and translates it into seasonal style forecasts for customers back home. These images are a sneak peak of his summer styles.
For New Zealand Fashion Week, which starts before the show round, he is hoping to see runway hair that reflects the global trend towards more strict styling, control, quality, polish and refinement. "A slight nod to the Sixties, not in a retrospective way, but with that classic newness that is always inherent in New Zealand fashion.
"Let's hope that the teams, though they are doing it for the love and the experience, push the envelope just far enough for us to love it, but still be able to imagine wearing it. Fashion should be fun, it should be new, but most of all, it should make you feel good about yourself."
Cute cuts
Shorter styles are making a strong comeback, helped along by looks seen at the likes of Chanel and Louis Vuitton.
"When you see a top brand, a top colour that looks beautiful, it really opens clients to change," says DiBiase. She says there has been a noticeable change in runway hair in recent seasons. "All the big brands, their hair is fabulous, amazingly styled, a big transformation."
Hair has gone from being primarily about long manes, into more adventurous options, first on the runway and increasingly with celebrities. "It's good that they don't have all long manes of hair, they have real hair."
One of her favourite looks is a recent Chanel campaign which featured two models, one with shoulder-length chocolate brown hair with a fringe and few highlights and another with a short, textured blonde bobette, also with a fringe.
These sorts of looks are filtering down into the mass market. "Hair is going very, very short."
These include pixie cuts with a 1960s vibe, but DiBiase reassures that though fashion goes around it also evolves, so the overall look is softer nowadays. "If you're a bit more mature you need to keep some softness, and keeping some volume and length in the top can soften the whole look."
Though some take the crop to the extreme, it does not have to be so. "It doesn't have to be boy short all over and that's why - even for the men - the short back and sides shows with the long top." A little length makes the style equally versatile, for both sexes. "It's very much a female look at the moment, they can wear it straight, or curly or textured."