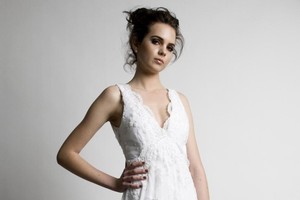 Want to lunch with Karen Walker? Attend Trelise Cooper's NZ Fashion Week Show? Wear a Sera Lilly dress on your wedding day? See Starfish on the runway? These prizes are up for auction now, to help raise funds for Women's Refuge. Everyone has the opportunity to win lunch with Karen Walker and her husband/creative director Mikhail Gherman at Kitchen Restaurant in Auckland's Hotel DeBrett; two tickets to Trelise Cooper's always spectacular fashion week show later this month; two tickets to the Starfish NZFW show; or a beautiful Sera Lilly gown to wear at your wedding, plus a performance from Anika Moa. Bid on various auctions online.
Cute uke
There is possibly nothing more joyful than the sound of a ukulele, and the best thing is that it is relatively easy to learn how to play one. Now various local creatives and fashion designers have created special ukuleles for Strings Attached, a fundraising art auction for the charitable trust Play It Strange - from World's quirky uke painted with Prada-esque bananas to Trelise Cooper's tropical inspired flowers, and Karen Walker's pretty pink ukulele with unique "Salzburg, USA" print.
Working Style has also created a display uke that features a custom collar.
These instruments will be showcased at Webb's Auction House tomorrow night in Auckland alongside others from various creatives, personalities and sporting greats, then auctioned off online, concluding on August 18 as part of The Ultimate Music Quiz Night at Sacred Heart College. For more information, visit playitstrange.org.nz, or bid now on a very special ukulele.
Open for experts
M.A.C has opened a new Pro store in Britomart's Atrium on Tukutai, with the Chancery store now closed. The Pro store, with a New York-designed interior, stocks a fuller range of products than the other outlets, including specialised professional makeup. To celebrate the move M.A.C's senior artist in Australia is joining her New Zealand counterpart, Amber D, to run personalised 90-minute makeup sessions. Bookings, for tomorrow, can be made by phoning 0800 MAC SHOP or emailing macbritomart@macstores.co.nz.
The company has also announced that rapper Nicki Minaj and singer Ricky Martin will be the spokespeople for its Viva Glam Aids charity fundraiser next year.
Happy Birthday to you
Mortimer Hirst is celebrating 60 years in business with a shipment of beautiful authentic, vintage designer sunglasses available exclusively from their two Auckland stores. Featuring original sunglasses from the 1960s to the 1990s, sourced from a factory seized by the government in Zambia due to tax evasion, the collection includes a great line up of designers including Christian Dior, Dunhill, Christian Lacroix, Paloma Picasso and more. Mortimer Hirst also have an exclusive range of genuine Buffalo Horn optical frames. Shop the collection at 9 High St, Auckland City, ph (09) 379 8950, and 14 Maheke St, St Heliers, ph (09) 575 8650.
Top shoes
The original Top-Sider was introduced in 1953, and various versions of the iconic boat shoe have been released since. Modern styles of Sperry Top-Siders have recently arrived at Ruby Boutiques, including these red canvas lace-ups ($149) which also come in navy.
Ph (09) 303 2128.
Bargain buy
Bring a retro look to your dressing table, with QVS tortoiseshell-look plastic combs. The pocket combs have unisex appeal and cost just $4.99 for two, plus there are larger sizes and tail and lift combs available from QVS department store and pharmacy stands.