Model, film star, now writer: Grace Coddington is set to tell all in her memoirs.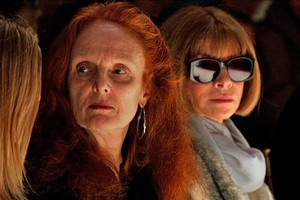 The devil may wear Prada, but we're about to find out exactly who wears the trousers in one of the world's most fashionable relationships.
US Vogue's creative director, the fiery-haired Grace Coddington, has sold the rights to her memoirs for more than £700,000 (NZ$1.3 million) to publishers Random House.
Coddington, 70, has worked alongside editor Anna Wintour at the world's biggest fashion magazine since 1988 (and for two years before that at its British equivalent) having started her career as a model in the late Fifties.
Known as a powerfully creative and inspirational force within the industry, she achieved celebrity status after the 2009 documentary, The September Issue, followed the ins and outs of putting a glossy magazine together - including the disagreements between commercially savvy queen bee Wintour, 61, and more artistically minded Coddington.
One scene shows her evident frustration when Wintour drops an extravagant shoot that cost £21,270.
"It was a complete surprise to me that, in the movie, I'm in quite a lot," she said at the time of the film's release. "There are cameras round Anna a lot, but I usually end up on the cutting-room floor."
But with the media obsessed with the workings of Wintour's notoriously tightly run ship, Coddington's irreverent humour marked her out as a radical figure. Their 25-year-long working relationship has become the subject of much speculation - which Coddington may either reveal or rubbish in her forthcoming memoirs.
"It all started with Mary Quant," Coddington says, both of her career and the Sixties ready-to-wear movement for which she became the youthful face, after winning a modelling competition in Vogue at the age of 17.
Having grown up in rural Wales, she found swinging London quite a different scene, but was soon working with the biggest designers and photographers, such as Norman Parkinson and Willie Christie, who eventually became her first husband.
But after a car crash at the age of 26, in which Coddington lost an eyelid and needed reconstructive surgery, she turned her hand to working behind the scenes, becoming a junior editor for British Vogue, where she stayed for 19 years until 1986, two years into Wintour's tenure as editor-in-chief.
"Anna was much more into 'sexy' than I was," she explained to The Economist's quarterly More Intelligent Life earlier this year.
From there Coddington moved to New York, where she worked as a consultant at Calvin Klein.
She was tempted back to the creative side of the business at Vogue, with Wintour's move to Manhattan.
It is not yet known when the memoirs will be published.
- INDEPENDENT