A top-of-the-line barbie deserves top-of-the-line protection, says Greig Morgan.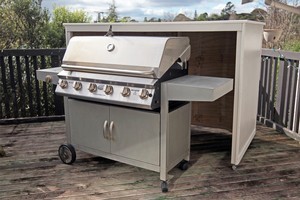 I cook on my barbecue every chance I get, even in winter - the food just tastes so much better.
But the harsh New Zealand environment can be rough on barbecues - like most things metal - if they're left outside uncovered. Most barbecue covers don't seem to last long.
This winter, I thought I'd make my own barbie cover - one that will last and keep the elements away from my pride and joy.
Start by measuring the size of your barbecue and allow for your cover to be at least 30mm wider on either side. The materials list at right is for a six-burner barbecue.
Step 1
Glue and screw together the framing for the two sides, using 75mm screws, then glue and screw the three 1900mm lengths of framing for the top, bottom and top front, attaching this framing to the side framing. This gives you the framework for your cover.
Step 2
Mark out and cut your ply panels for the top, front and two sides using a circular saw. Glue and screw the panels to fit your frame. Make sure you allow at least a 25mm-30mm overhang for the top.
Step 3
Cut and fit 50 x 50mm bracings to the top, front and corners.
Step 4
Nail on the external angles for the corners and the trim around the top.
Step 5
Fit a wheel to each corner and one in the middle.
Step 6
Paint to the desired colour - it's big enough to add some artwork too, if you feel inspired.
Materials
Three sheets of H3 7mm ply 2400x1200
50x50 H3 framing as follows: four lengths of 1200mm for corners (sides); one length of 1110mm for middle support; four lengths of 700mm for top and bottom of sides; three lengths of 1900mm for top, bottom and top front; three lengths for bracing for the top, one in the middle, two diagonally from corners to middle; two for the bottom corner bracing
External 16mm angle capping, two at 2400mm, two of 3000mm to finish corners and top
One pack screws 10g x 75mm
One pack screws 8g x 25mm (ply to frame)
One pack 40mm galvanised nails
Exterior wood glue
Paint and brush
Five castor wheels (with brake)
Tools
Skilsaw or handsaw
Screw Gun
Hammer
Tape measure
Safety set - earmuffs, goggles, mask
Builder's pencil and square