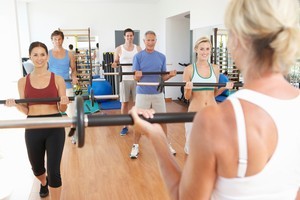 Kiwi gyms are being warned to shape up or face prosecution after an investigation found some gyms may be breaking consumer credit law.
The Commerce Commission says it has investigated membership contracts at 13 gyms across the country and found consumers in all but one of those cases weren't being made aware of the true cost of their contract.
The contracts failed to advise customers of their statutory right to cancel the contract, and failed to disclose the full cost of the membership for the minimum period, the Commerce Commission said.
The investigation was prompted after some consumers complained about the difficulty and, or expense they had when trying to cancel their membership.
Commerce Commission competition branch manager Graham Gill said it was fundamental that consumers were given full information with signing with a gym and is warning gyms to 'shape up'.
"Often people will enter a gym membership contract just wanting to get started on their new passion for fitness.
However they need to be made aware of the true cost of the contract, so they can make an informed decision about whether to go ahead and sign," he said.
Thousands of people may have entered into gym contracts that breached the Credit Contracts and Consumer Finance Act, he said.
However he said it was possible some gyms didn't know about the need to disclose the consumer's right to cancel their contract and the full cost of membership.
"The law in this area is a little bit tricky, however I think there are some gyms at the outer extremity of the industry that are probably completely unaware of their obligations and don't particularly care just as there are in the wider credit industry."
Gill said failure to disclosure provision of the act to consumers would make a contract unenforceable and an attempt to enforce the contract may also breach the Fair Trading Act.
"We have encouraged the gym industry to seek legal advice and put this matter right urgently. If they don't do so, the commission may take enforcement action in the future," said Gill.
Club Physical chief executive Paul Richards said he believed everything the gym was doing was above board and that members were told about their right to cancel their contract and the full cost of the membership fee.
"I'm aware there's a wide variance between some health clubs and us but we have been in the business a long time and like to think we're pretty professional."
Richards said he did not believe Club Physical was one of the gyms investigated.