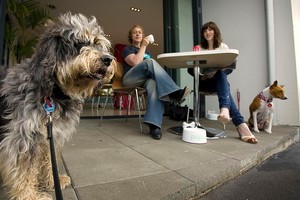 Nothing takes the Shore out of the girl like inner-city immersion, says Wendyl Nissen.
Years ago when I moved my two children, two dogs and cat into the inner city to live with my new husband, I spent the first few years with my nose raised high, sniffing the air.
I was a North Shore girl who had lived in flats in Grey Lynn in my 20s, which was enough to convince me that the entire suburb was populated by "lentil huggers". Every home proudly displayed jars of lentils and the occupants would throw on their harem pants and be ready in a second if you suggested an interpretive dance get-together down at the park.
Over on the Shore, we had none of that. My childhood was accompanied by the sounds of clinking pottery goblets filled with hock as my parents floated from one dinner party to the next in what now seems an exhausting schedule of socialising. Most weekends involved the eating of beef bourguignon or some other new food discovered from French cookbooks and served in Len Castle ramekins.
The music was James Last or Hair, the musical.
And when my family wasn't "entertaining", we threw ourselves in the water. Swimming, fishing or hanging out on Takapuna Beach smothered in baby oil and malt vinegar.
"If you think I'm going to become one of you pale inner-city types, you have another thing coming," I warned my husband on the day I moved in.
"You'll get used to it," he said, struggling to find somewhere to fit the family heirloom pottery goblets.
I bought a dinghy and an outboard motor and towed it over to the Shore every chance I got, where I launched it and sat in the middle of the Waitemata Harbour fishing in a vain attempt to keep my Shore identity alive.
I dragged my children over to Takapuna Beach, where they swam obligingly and then begged to be taken back over the bridge.
Despite my best attempts, each of my children had willingly signed up for the role of inner-city devotee.
My house began to fill up with very cool teenagers whose parents owned art galleries, were massage therapists or worked for a union.
And then it happened. I became a "lentil hugger". Like a character in an episode of Dr Who, I found the magnetic pull of another civilisation too hard to resist.
"I've found this great naturopath," I told my husband just a few years in. "And she's so handy!"
Next was the health shop underneath the naturopath clinic, then the yoga classes which were walking distance from the naturopath. Then there was the organic butcher and the coffee shop where you could sit outside with your dog and chat to the locals.
I knew I had made the full transition into inner-city matron when I wrote a column about the influx of "new Grey Lynners". The people who buy up old villas, gut the insides and turn them into minimalist fortresses of supposed style. Who take their friends for walks in the park and talk proudly of the "cafe lifestyle" just minutes from their door. Who complain about homeless people making the park look "Third World", and whose children travel miles out of the suburb every day to attend King's and St Cuthbert's just in case they make friends with the children of union reps. Who commend me for sending my daughter to the local college because "it's so good for creative types", unlike their non-creative children who will presumably grow up to rule the world.
But it would seem that after 16 years, I am not quite as Grey Lynn as I thought I was.
I recently went to an acupuncturist who was, as usual, just up the road.
"So you've had acupuncture before," she assumed, looking at my sensible jersey, my unbrushed hair and my Ugg boots.
"Actually, no," I confessed.
"Oh, well then, welcome to Grey Lynn," she said as she jabbed a needle in my ear.