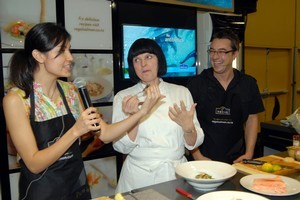 They told Julie Le Clerc that she was too nice to be a MasterChef judge, and she's never forgotten it.
The Auckland Food Show was her chance at to prove she could be a tough cookie too - just like Ray McVinnie, Josh Emmett and Simon Gault. Vowing to bring "a touch of Gordon Ramsay" - minus the swearing - Le Clerc acted as judge for the first showdown between Brett McGregor and Nadia Lim, the 2010 and 2011 winners of the popular TV cooking show, in a creative contest set up by the Herald on Sunday.
But when it came to the crunch, it was Le Clerc, not the contestants, who felt the pressure as she struggled to decide which of the two had created the best dish from Regal Salmon.
McGregor made a Thai-inspired poached salmon salad and Lim served a fruity wood-roasted smoked salmon salad.
"Oh my goodness, this is incredibly hard," Le Clerc said after sampling their dishes, created within 10 minutes of McGregor rushing from a Food Show cooking demonstration.
"Do the judges in MasterChef go away and think about it?" A pause followed and it was looking as if Le Clerc, whose show Cafe Secrets screens on TV3 this afternoon, really did lack what it took to be "Judge Julie".
Just when separating the two might indeed prove impossible, she announced: "There can only be one winner. It's very difficult. Um. They are both incredibly good dishes." She paused and the small crowd who had gathered to watch drew in its breath.
"The only way I can make a decision is to base it on originality. I'd have to go with Nadia's."
McGregor's salad - with its "melt-in-your-mouth" flaked salmon combined with palm sugar, chillies, lemongrass, fish sauce, kaffir lime leaves and spring onion - tasted incredible but Le Clerc simply felt familiar with Thai flavours.
Lim's dish however showed that "tiny bit of extra originality". Lim, delighted, turned to Le Clerc and asked if she thought she could be a MasterChef judge now.
"It's a terrible pressure, I don't know," said Le Clerc.
"You were definitely too nice to me," Lim said, laughing.
Nadia Lim and MasterChef runner-up Jax Hamilton will be demonstrating their skills at the Food Show today, 2.30-3.15 at the Electrolux Cooking Theatre, Hall 3.
Nadia Lim's Fruity Wood-Roasted Smoked Salmon Salad
INGREDIENTS
* 1 handful of watercress
* Olive oil
* 1 lemon
* 1 chopped fresh fennel bulb
* Quarter of an avocado, sliced
* Half an orange, peeled and cut into segments
* Two slices of mango, diced
* 1Tbsp salmon caviar
* 2-3Tbsp creme fraiche
* 1 packet Regal wood roasted smoked salmon
METHOD
Put watercress, fennell, avocado, orange and mango in a bowl. Dress with olive oil and a squeeze of lemon juice. In another bowl combine caviar, creme fraiche and another squeeze of lemon juice. Add the caviar and smoked salmon to the salad. Toss. Devour.