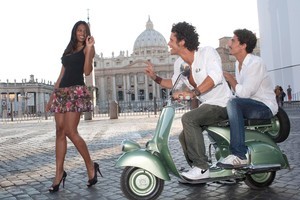 In France, they are dubbed "les Tanguy", after a movie whose main character is still at home in his early 30s, driving his mum and dad to despair.
In Britain, they're called Kippers, for Kids In Parents' Pockets, Eroding Retirement Savings.
In Italy, they are known as the "bamboccioni" - the "Big Babies".
Sixty per cent of Italians aged 18 to 34 still live with their parents, the highest percentage of young stay-at-homes anywhere in Europe, according to the national statistics agency Istat.
"We are creating a lost generation," says a Rome social worker. "These are people who may never leave the family nest."
Conventional wisdom has the "bamboccioni" - pronounced bambo-chee-OH-nee - living a charmed life.
In the family apartment, he or she gets up to a leisurely breakfast, perhaps a piping hot coffee and fresh croissant, left by the adoring mamma.
This is followed by a hot shower in which the Big Baby never forgets to leave a damp towel and wet footprints on the floor.
After work, the bamboccione returns home but only for a pit stop. It's to change into some freshly laundered clothes - thanks again, mum! - before speeding off with chums for the evening, perhaps to a restaurant or a club, on board a Vespa or Fiat 500, bought with money saved on rent.
Last year, Civil Service Minister Renato Brunetta, a bruiser who has wrestled with inefficiencies andtime-wasting in government administration, pinned the question of the bamboccioni to the top of the agenda.
He blamed parents for turning their children into "softies" and suggested that Government approve a law forcing anyone over 18 to leave home.
Colleagues said that Brunetta was only jesting, but an anguished debate was launched.
Some say "bamboccioni" is an Italian thing, all about obsessive mothers and apron strings. Others say it is a Catholic thing, pointing to Ireland, Portugal and Spain as other countries where "boomerang" children leave the nest only to return to it.
Others blame generational apartheid, smug oldsters who cling to their privileges, blocking labour and housing reforms that would give younger people a chance.
Young Italians set up a campaign group called "Fai la Valigia" (Pack Your Bag), pointing out that many so-called bamboccioni were not living at home through Oedipal devotion but simply because they had no choice.
The biggest problem, they said, was work. Around two million Italians between 15 to 29 are not in education or fulltime employment, a jobless rate of more than 29 per cent.
The crisis has worsened since the financial meltdown of 2008, which is why the proportion of stay-at-homes has risen from 49 per cent in 1983 to 60 per cent today, three times as many as in Sweden.
In the 30-34 age group, one Italian in three lives at home, three times more than in 1983.
Many young Italians can only find temporary work, with contracts that run for three months or six months, which is often rejected as an insufficient guarantee by landlords.
Then there is the question of rent. In big cities such as Milan or Rome, the average rent is around €1000 ($1645) a month and even a single room will cost €300 to €400. A low-paid temp job or work in a call centre will net about €500.
Staying at home may offer creature comforts, but in terms of personal space, it's a loser.
A bamboccione lives in the same bedroom occupied as a teenager, with a box of old toys in the corner of the wardrobe. A normal relationship with a girlfriend is impossible: romantic evenings are limited to park benches and the backseats of cars,for an apartment is out of the question.
Love Italian-style these days can have many drawbacks.