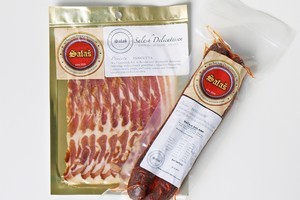 There's cured meat and then there's cured meat. This stuff is the business. The real Eastern European deal. Meat, salt, smoke and sometimes spices - nothing else. No nitrates, no preservatives, no fillers. Pure and simple and made according to a recipe handed down through the Mirkov family for four generations in Vojvodina, Serbia.
Until a month ago, brothers Predrag and Gradimir Mirkov smoked their meat in a gigantic corrugated iron smoker in their backyard in New Lynn with the help of their father, Dragoslav, an ex-restaurateur. Recently demand got so high they have had to move into larger premises in Onehunga but the process is unchanged. They are still making it all by hand, using traditional methods (meats can take from four to 18 months to cure without chemicals to speed it up). The only equipment used is a mincer and of course, a vacuum packer so it can be sold. It doesn't get more traditional than this.
It took a lot of backing and forthing with health and safety authorities in New Zealand to convince them that nitrates were not a necessary part of curing meat and that it could be done the old-fashioned way and still be safe to consume. They try to use all local ingredients but they do have to source their paprika from Hungary.
And it tastes amazing. The range consists of eight different cold cuts, six sausages and salamis and some really traditional extras - lard and pork scratchings anyone? With 16 products there's a wide variety of saltiness, smokiness, texture, fat content and types of meat (mainly pork but a bit of beef too) so as long as you're not vegetarian you'll definitely find something to suit your particular palate.
We really liked the Vrat (pork scotch fillet) for its creamy texture - undoubtedly due to the big white streaks of fat running through it - and the leaner, more delicate Šunka (prosciutto) would be perfect wrapped around a thick slice of rock melon or fresh mozzarella. The cold cuts are sliced impossibly fine, to the point of translucent, which makes them aesthetically pleasing too. If you're looking for really great salami, try the Backa. It's a pork salami with the most wonderful balance of smoke, pepper, garlic and paprika flavours - highly spiced but not to the point of overpowering. It's wonderful sliced and eaten as is, but cooking it in a soup or frying it and stirring through a pasta or salad would release even more flavour.
Check out
Visit salashdelicatessen.com for markets, delis and restaurants that stock Salash products.